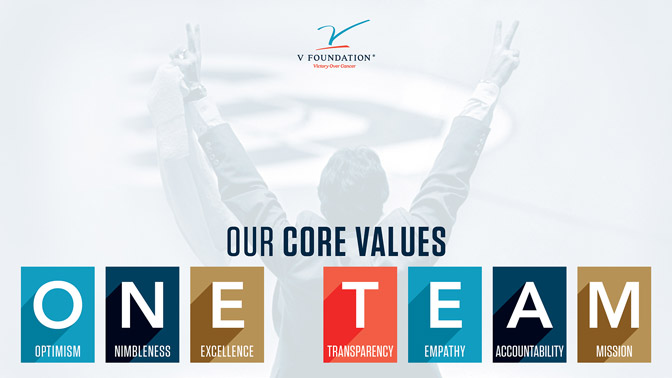 Our Core Values
We believe in:
Optimism – we are enthusiastic about our impact and the potential of tomorrow.
Nimbleness – we are resourceful and can adapt when new opportunities arise.
Excellence – we are committed to being the best we can be with actions to match.
Transparency – we are clear in our aspirations and relentlessly steward our stakeholders.
Empathy – we pursue compassion, respect, inclusion, and fairness.
Accountability – we accept our responsibilities to uplift integrity, collaboration, and celebration.
Mission – we are dedicated to achieving Victory Over Cancer® with urgency.
WE ARE ONE TEAM!
Every day we come to work with Jim Valvano's inspiring words in mind: "Don't give up . . . Don't ever give up!"® It's this attitude that gets us a little bit closer to achieving his dream of Victory Over Cancer® every day.
That dream requires an extraordinary team. And an extraordinary team deserves an equally amazing environment. It's why we've worked so hard to create a workplace that attracts and retains a diverse group of passionate, committed and talented individuals. We offer competitive salaries, an employee-friendly organization and a comprehensive benefits package.
If you're interested in joining our team, please see our open positions. Thank you!
The V Foundation is dedicated to achieving Victory Over Cancer® through research. Jim Valvano, a NCAA Championship-winning college basketball coach and sports announcer, and ESPN founded the organization shortly before Jim's death from cancer in 1993.
We carry on Jim's mission for Victory Over Cancer®.
The V Foundation is dedicated to providing equal opportunities in our endeavors and in our workforce. We believe that being open and approachable is the foundation of diversity, which is why we prioritize direct communication and invest in resources to make sure that our team feels connected and like they can bring their full selves to work each day.
All employees work cross-functionally and interact directly with everyone in the company, creating a tight-knit, respectful and inclusive community.