ESPYS 2023
Join ESPN and the V Foundation for Cancer Research on July 12 at 8:00 p.m. EST on ABC for the 2023 ESPYS Presented by Capital One.
Non-Hodgkin Lymphoma Research
The V's Impact
Adam Palmer, Ph.D., UNC Lineberger Comprehensive Cancer Center
Funded by the Constellation Gold Network Distributors

"The V Foundation grant supported our work to develop simulations of clinical trials of drug combinations, which have already been used to design trials of new regimens for Non-Hodgkin Lymphomas that may improve patient survival in the near future. Our next steps will develop widely applicable simulations that clinicians and companies around the world can use to aid the design of new combination therapies across many cancer types. In the next few years, this could improve the rate of success of clinical trials of new treatments, accelerating progress to victory over cancer."
Dr. Joe Moore
Hear from Dr. Joe Moore, Jim Valvano's doctor, and member of V Foundation Board of Directors and Scientific Advisory Committee.
Andrea Bonetto, MS, Ph.D.
University of Colorado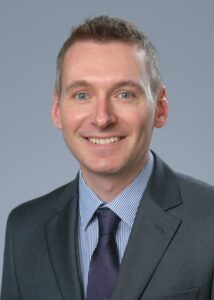 "Being a V Foundation awardee means being among a prestigious and competitive group of people that excels in cancer research and represents the future of cancer care."

---
ESPYS Week 2023
ESPN will celebrate 2023 ESPYS Week through numerous activities, including the launch of a new ESPN-produced V Foundation documentary, an annual commemorative celebrity golf classic, and awarding the 2023 recipient of the Jimmy V Award for Perseverance.
2023 ESPYS Celebrity Golf Classic at Sherman Oaks Country Club in Thousand Oaks, CA
The event features an afternoon of golf with athletes, comedians, and celebrities followed by a Texas Hold 'Em Poker Tournament, honoring the life and legacy of Saturday Night Live's Norm Macdonald. Proceeds from the event will benefit the V Foundation. Some of the celebrities scheduled to attend are Dana Carvey, Conan O'Brien, Rob Schneider, Tim Meadows, and Cristie Kerr.
Jim Valvano's Speech Documentary
As part of this year's ESPYS Week, ESPN will debut a new one-hour documentary on Jim's speech on Wednesday, July 12 at 7pm ET on ESPN and Saturday, July 15 at 2pm ET on ABC. The film will include interviews with several V Foundation supporters and ambassadors, including Mike "Coach K" Krzyzewski and Robin Roberts, and will discuss Jim's impact 30 years later.
Jimmy V Award for Perseverance 2023
Over the last three decades, the V Foundation has maintained a strong presence at the ESPYS. Annually since 2007, the Jimmy V Award for Perseverance has been presented to a deserving member of the sports community who has overcome great obstacles. This year's honoree will be recognized at the ESPY Awards ceremony on Wednesday, July 12, at 8 PM ET on ABC.
Additional ESPYS Programming
ESPYS Nomination Special – Saturday, July 1 at 11am ET on ESPN
ESPYS Preview Show – Tuesday, July 11 at 7 PM ET on ESPN
V Foundation Documentary on Jim Valvano's Speech (Debut) – Wednesday, July 12, 7-8pm ET on ESPN
ESPYS Red Carpet Show – Wednesday, July 12 from 7-8pm ET on ESPN's digital platform
ESPY Awards – Wednesday, July 12, 8-11pm ET on ABC
V Foundation Documentary on Jim Valvano's Speech (ABC Debut) – Saturday, July 15, 2pm ET on ABC
Sports Humanitarian Awards
The 2023 Sports Humanitarian Awards, benefiting the V Foundation, celebrate athletes who use their power for good. See this year's nominees and finalists.
Cheers to Our Sponsors
Thank you to all sponsors for the 2023 ESPYS, which benefit the V Foundation.