2023 Dick Vitale Gala Car Raffle
Help children battling cancer. Enter to win a 2023 Porsche 718 Boxster Convertible in Silver Metallic. Only 2,000 chances sold! $100/donation per entry. The drawing will take place at the Dick Vitale Gala on Friday, May 5, 2023. Winners do not need to be present to win.
Raffle Winners
CAR #1 – Winner (Raffle ticket #0287)
Nelson Squires
CAR #2 – Winner (Raffle ticket #1213B)
Michael Wormley
CAR #3 – Winner (Raffle ticket #1293C)
Melvin Pomfrey
CAR #4 – Winner (Raffle ticket #1420D)
Charles Bridges
---
At the 17th Annual Gala, Dick Vitale raised a record $11.1 million for pediatric cancer research. And, ESPN announced at the Gala that Dick would be the recipient of the Jimmy V Award for Perseverance at The 2022 ESPYS.
Almost 30 years after Dick walked Jimmy V up to the stage for his ESPYS speech, it was Dick who shared so many moments of inspiration for the nation. Our top 5 moments from his 2022 ESPY speech: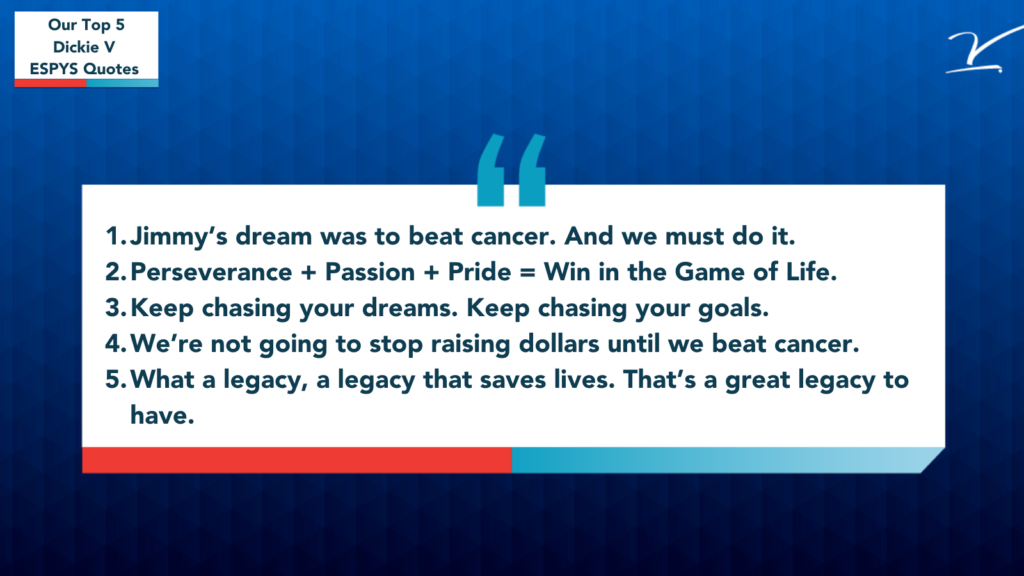 In honor of Dick's ESPYS award, Mark and Cindy Pentecost, founders of It Works!, announced a $1 million match to the V Foundation through the month of September. Through tremendous support from our community and donors, we met the match and raised over $2 million for the Dick Vitale Pediatric Cancer Research Fund.
To date, the Dick Vitale Gala has raised nearly $55 million for pediatric cancer research.
The 18th annual Dick Vitale Gala, benefiting the V Foundation, will be held May 5, 2023, at the Ritz-Carlton in Sarasota, Florida.
The honorees will be:
3-Time World Series Champion with the San Francisco Giants, Buster Posey
NBA Hall of Famer, David Robinson
ESPN Tennis Analysts, John and Patrick McEnroe
The John Saunders Courage Award will go to NC State Hall of Famer Derek Whittenburg. The Dick Vitale Spirit Award will go to Tennessee Men's Basketball Head Coach Rick Barnes.
The mission of the Dick Vitale Gala is to raise funds for premiere pediatric cancer research across the nation, while simultaneously promoting awareness of pediatric cancer and how devastating it is to our children and their families. As in prior years, net funds raised are utilized for the best research nationwide so one day no child will have to experience this horrific disease.