It was the day before his 64th birthday. Bill Snead was walking around a youth chess tournament in Dallas, away from his home in Amarillo, Texas. Working at chess tournaments is one of his favorite retirement hobbies.
As he was walking around the second and third grade section of the tournament, Bill felt a lump above his right nipple. He thought it was odd, but knew he wanted to get through the weekend tournament and his birthday the next day. He would think about it when he got home.
Fast forward a week, Bill and his wife drove to the hospital to get the lump checked out. He met with the doctor and upon one feel of the lump the doctor was confident it was cancer.
"The doctor felt it and knew immediately," Bill said. "The lump had an indention in it right below my nipple, which led her to believe it was cancerous. All the medical students around were shocked and took turns feeling the lump."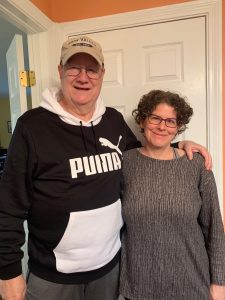 A biopsy confirmed the findings and Bill found out the next steps — right side mastectomy; six sessions of aggressive chemotherapy – Taxotere, Carboplatin and Herceptin. Then, 13 additional sessions of Herceptin. These were followed by nine years and two months of a nightly pill, Tamoxifen.
Throughout the process, Bill kept a log of how many times his port was accessed. He used the same sheet of paper every day. His port was accessed 34 times. During one treatment, at the top of the piece of paper, he wrote his personal mantra he maintained during treatment: Unstoppable.
"In the U.S., one man out of 830 is diagnosed with breast cancer. In my household, it was one out of one. Keep fighting this disease."
DOCTORS TURNED HEROES
Just before his right mastectomy, Bill was given a shot as part of a test to see if cancer had made its way to his lymph nodes. He would find out the results following the surgery. Bill was put under anesthesia for the surgery, and it was successful.
Bill remembers waking up in the recovery room. As he came to, he looked around and saw the face of his surgeon, Rakhashanda Rahman, M.D., who was standing beside his bed. He immediately asked about the test result and was given the good news that it had not spread.
A patient's relationship with their doctors can be strained through the stressful time of cancer treatment. No person would ever want to be in the position, so it can be trying and difficult.
Bill feels blessed to have been treated by his oncologist, Srini Reddy, M.D. One thought changed his outlook completely.
"My great realization in all of this was that the oncologist is not your enemy, cancer is your enemy."
Bill doesn't hesitate to call his doctors his heroes. To him, their knowledge and experience made his treatment smooth and successful.
RINGING THE BELL
A few months ago, Bill was told he no longer needed to be treated by an oncologist – he was officially released. It was a long 10 years of treatment, but now at 74 he is cancer-free and enjoys simpler things in life – his family and friends with the addition of chess problems, a little online poker and all kinds of puzzles.
When he was released from treatment, Bill was able to ring a bell to signify the end of his treatment. Prior to ringing the bell, he read a poem about his journey. That was a special moment, and one he and his family will never forget. The poem read:
"Ring this bell
Three times well
It's toll to clearly say
My treatment's done
This course is run
And I am on my way."
Bill considers himself fortunate for the resources he had throughout treatment. Specifically, the support system of his family and the terrific medical personnel were a shining light through a dark time.
Now, Bill is eager to share his story to inform men about the risk they have for breast cancer and to encourage research around male breast cancer. With less than one percent of breast cancers being in men, the unsuspected fraternity Bill found himself in is scarce. He wants other men to know they are not alone. Doing a self-examination alerted Bill to something he needed to address.
While going through treatment, Bill saw the need for more research into men's breast cancer, along with other types of cancer. His treatment was the same treatment as a woman with breast cancer might have, although some of the decisions and repercussions would not have impacted him. For example, Bill was taken off one medication because a study showed a connection between that medication and developing uterine cancer.
BILL SNEAD: SURVIVOR
Surviving cancer means a lot of things to Bill.
Surviving cancer means having a relationship with his older daughter, Kerri and her two sons. Linus was just a few months old when he was diagnosed, and Bede wouldn't be born for three more years. It means his grandsons could blow out the candles on his 74th birthday.
Surviving cancer means being able to go to a Chicago Cubs game at Wrigley Field with his younger daughter, Tricia. It means you can ride on a bus and read "Cyrano de Bergerac" on the way home from the game eight years after surgery.
Surviving cancer means you can have your whole family sitting around the table working on a jigsaw puzzle during Christmas time. It means new memories to be made of your family together.
Surviving cancer means he and Margaret could celebrate their 50th wedding anniversary in February 2021. It means 11 more years with her and counting.
Surviving cancer means research is working.






More than 285,000 people will be diagnosed with breast cancer in 2022, approximately 15 percent of all cancer cases. The V Foundation for Cancer Research is proud to sponsor all-star scientists working to achieve Victory Over Cancer®. To read more stories of inspiration, learn about our researchers, check out our partners and give to the Clea Shearer Breast Cancer Research Fund, visit www.v.org/breast-cancer-awareness-month/.
Bill shared his story with the V Foundation. You can share your story HERE.