When a loved one is diagnosed with cancer, time becomes one of the most valuable gifts in the world. Manny Almario, a devoted husband and father, Bristol Myers Squibb oncology team member, and cancer research advocate, knows this feeling all too well.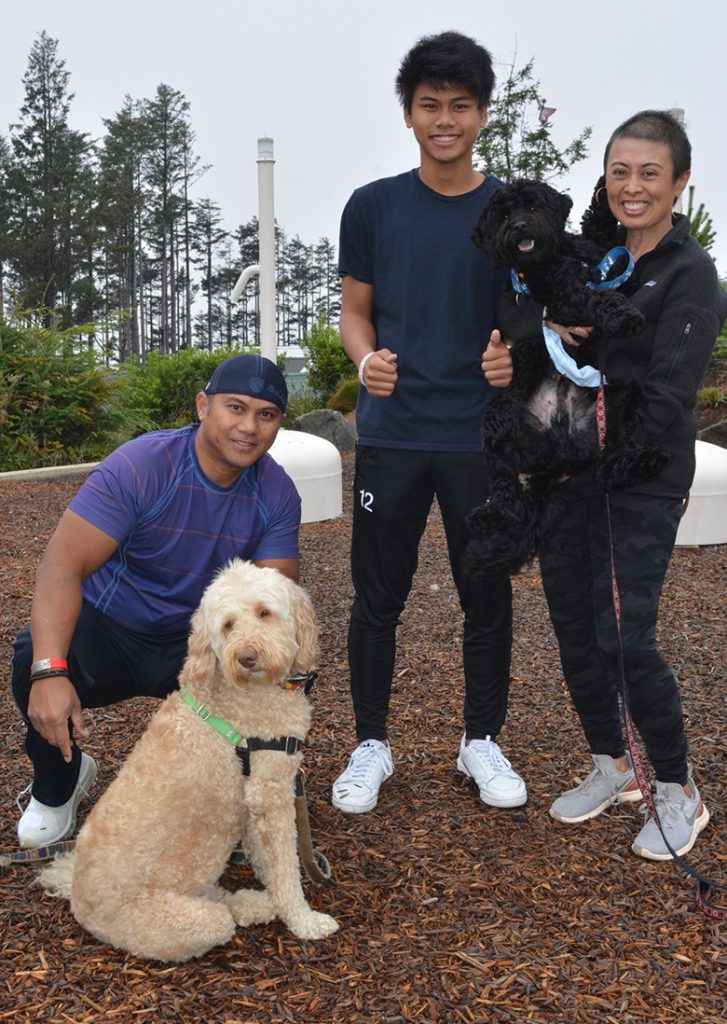 In 2013, Manny's wife, Theresa, was diagnosed with endometrial cancer at just 40 years old – nearly 20 years younger than the average age for this type of cancer.
"She is not the typical profile, but cancer doesn't discriminate," said Manny. "You can be hit when you're young or old, whether you're a woman or man. You don't expect it, but it could happen to you."
After an intensive treatment plan, Theresa was declared cancer-free and remained in remission for five years. During that time, Manny recalls resuming a busy and fulfilling life together with their teenage son, work schedules, and range of activities in their home city of Seattle, Washington.
However, in November 2019, Theresa experienced severe back pain, and biopsies showed that the cancer had returned. Throughout the next three years, she underwent a variety of treatments and participated in research trials.
"She fought really hard for three years," said Manny. "Unfortunately, even with all the medicine out there and research that is currently available to us, there are not many targeted options for endometrial cancer. [These patients] are mostly being treated with a standard protocol."
Theresa passed away in February 2022, and while Manny was devastated by the loss of his beloved wife just a few months shy of their 28th wedding anniversary, he has been more motivated than ever to advocate for cancer research and lifesaving treatments.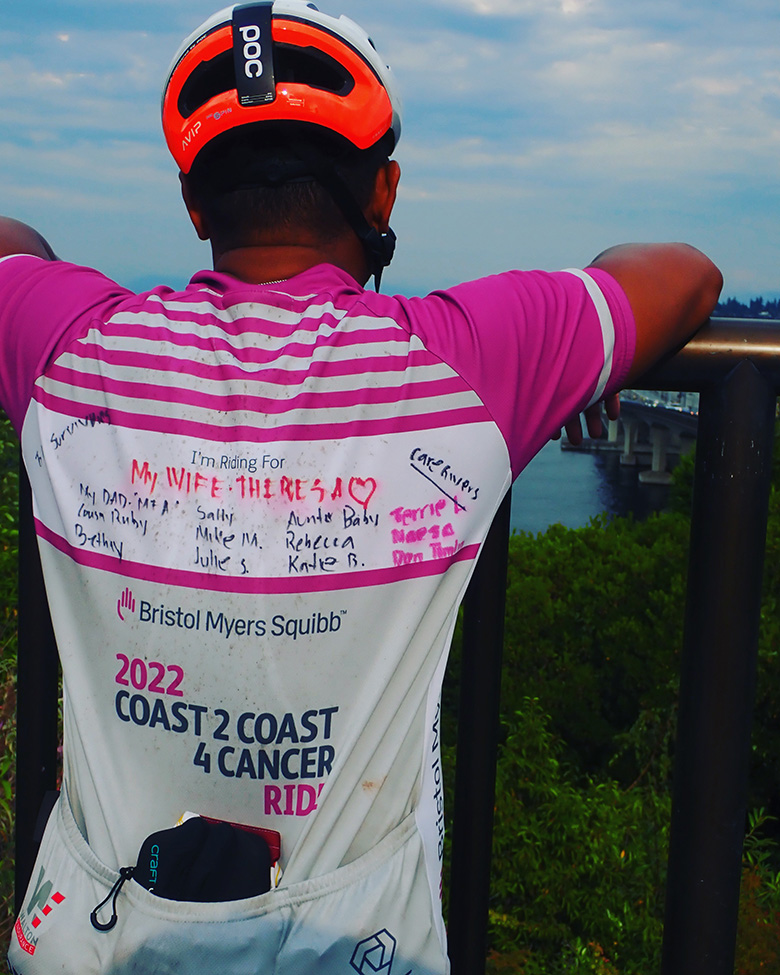 Manny is taking on an incredible feat to honor Theresa and his father, as well as many other cancer patients who are facing this battle every day. He will ride approximately 225 miles over three days from Bend, Oregon to Boise, Idaho as part of the Coast 2 Coast 4 Cancer ride. This ride is a 27-day cycling event by Bristol Myers Squibb employees that raises funds for the V Foundation for Cancer Research.
"I can't control cancer, but one thing I can control is to move forward, be optimistic and educate patients and caregivers that there is hope through science and innovation," said Manny. "No matter what type of cancer or what type of patient, they should have access to the best research and treatment."
While Manny is an experienced cyclist with more than 20 years of riding under his belt, this event will challenge him in new ways. To start, the continuous time in the saddle over three days will be the longest he's ever ridden, but it is not just the physical component that will take him to his limit. Theresa was Manny's greatest champion through his training and he hoped she would be at the finish line to greet him in Boise.
Although his journey looks different than he anticipated without Theresa by his side, he continues to use her enduring spirit as motivation every day. For example, when he got two flat tires at mile 85 of a 100-mile ride, he channeled her strength to push him through.
"It's hard to stop the momentum on a ride like that and you feel like it's the end of the world, but it's not," said Manny. "What I'm going through today is nothing compared to what cancer patients face and that motivates me."
While he has overcome many unexpected turns throughout this journey, one of the most surprising parts of participating in the Coast 2 Coast 4 Cancer ride for Manny was the overwhelming generosity he received from his friends, family and community to support the cause.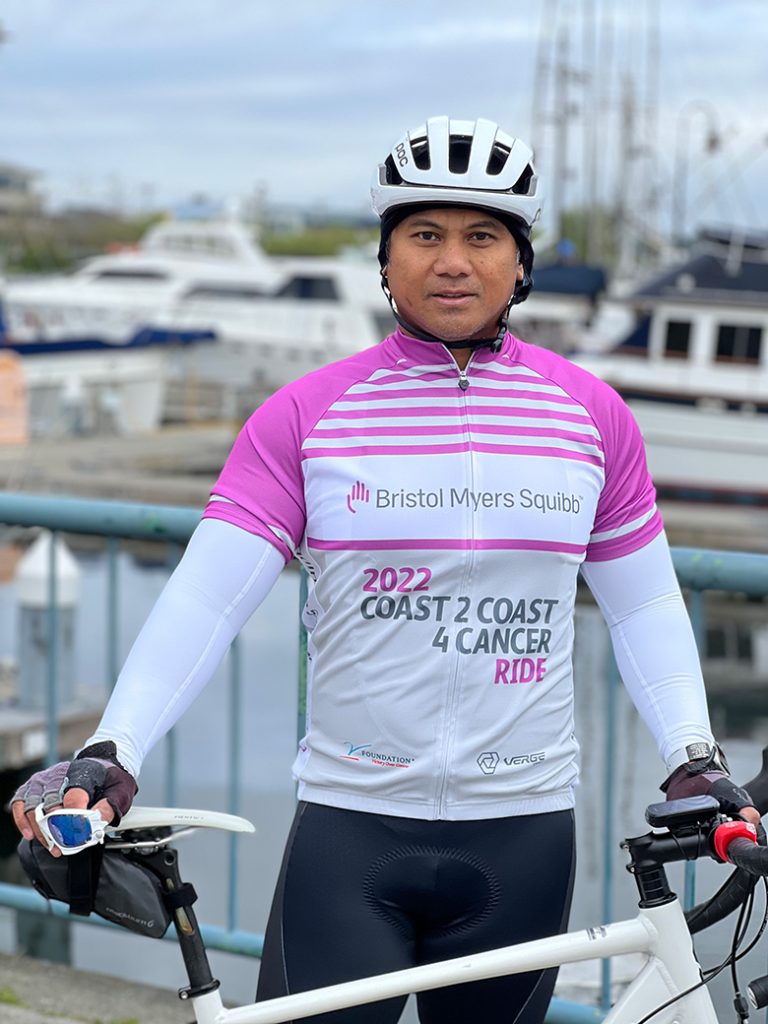 "I thought the most challenging part would be fundraising, but I was wrong. Between my own story and other people's stories, a lot of people have been touched by cancer," he said. "It's not about me. The reason we ride is for all cancer patients."
Manny continues to spread a message of hope, and champion organizations like the V Foundation, which helps accelerate cancer research so more people can enjoy that precious gift of time. "If my riding can give one more year or five more years to someone, it's worth it. Even just one more birthday is an accomplishment."
He knows first-hand how difficult it can be to see someone you love face this disease, and he is determined to be a part of the solution. "When I was a caregiver and husband, I felt like I was helpless," said Manny. "But this is what I do best – riding – so I'll do that. I'll share my story and raise awareness for all cancer types. I'm 100% on board to achieve victory over cancer."
To learn more about the Coast 2 Coast 4 Cancer ride, visit the website here.
Donate Now
Tell Your Story