The 18th Annual Dick Vitale Gala Announces $12.4 Million Raised for Pediatric Cancer Research
The Gala is a part of an overall year-round effort to support the V Foundation's Dick Vitale Pediatric Cancer Research Fund
Sarasota, FL (May 6, 2023) – The V Foundation for Cancer Research, a top-rated cancer research charity, and ESPN Hall of Fame Sportscaster Dick Vitale, announced at the 18th Annual Dick Vitale Gala that $12.4 million has been raised for pediatric cancer research. The sold-out event was held at the Ritz Carlton in Sarasota, FL on Friday, May 5. Since 2005, the gala has helped raise over $67 million for the V Foundation's Dick Vitale Pediatric Cancer Research Fund.
"Every year, I am inspired by the generosity of our incredible donors and Dickie V's All-Courageous Team," Vitale said. "These amazing kids are cancer survivors or on their cancer journey, and they need our support. Every year at the gala, we come together to celebrate them and move pediatric cancer treatments forward. This record-breaking year is a culmination of incredible work by my team led by Mary Kenealy and Janet Allen and all those who have donated. To me, it is like winning a National Championship!"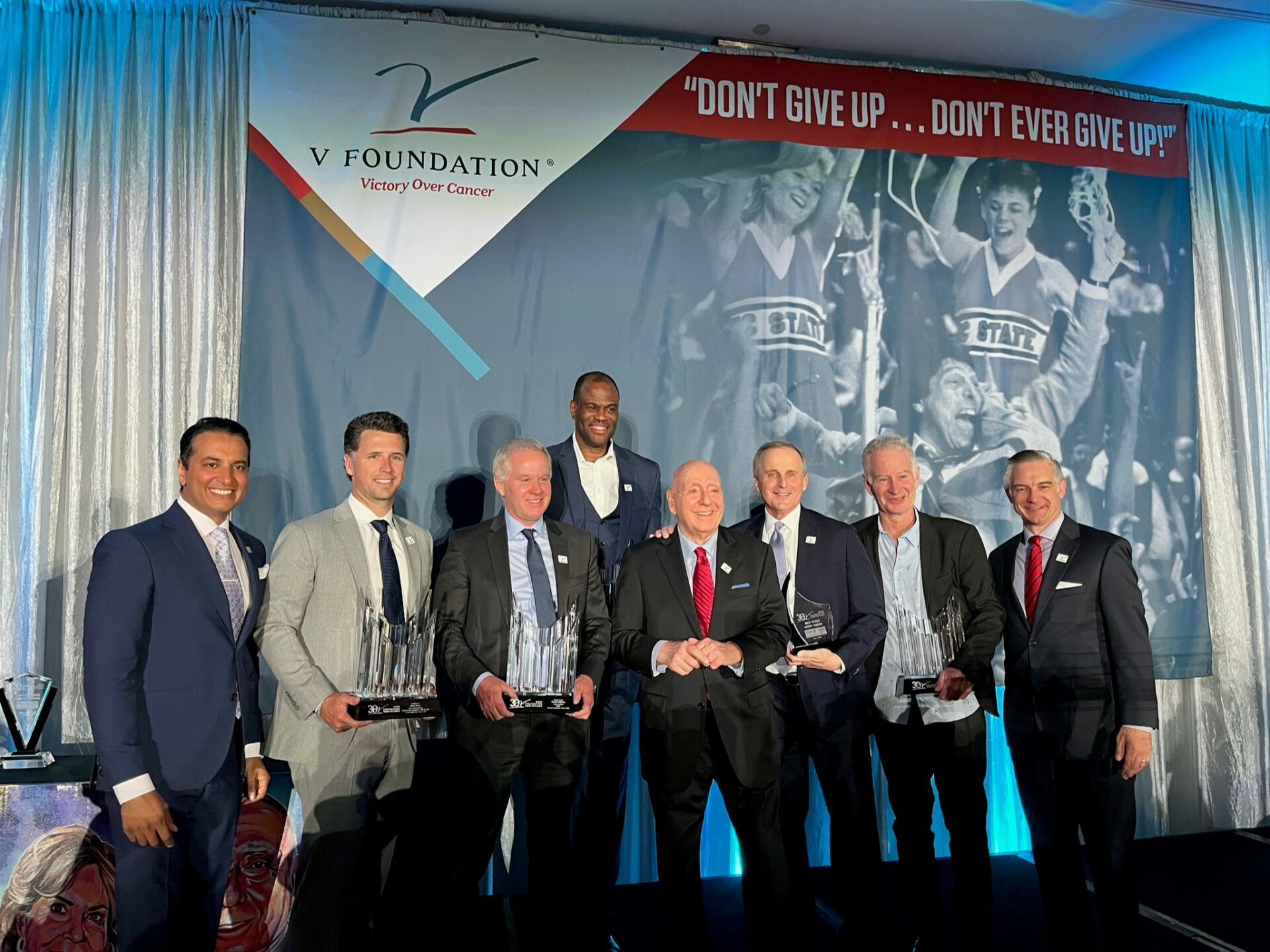 This year's Gala Honorees were:
San Francisco Giants 3-Time World Series Champion and 2012 National League MVP, Buster Posey
NBA Hall of Famer, David Robinson
International Tennis Hall of Famer and ESPN Tennis Analyst, John McEnroe
ESPN Tennis Analyst, Patrick McEnroe
NC State Wolfpack Hall of Famer, Dereck Whittenburg (2023 V Foundation John Saunders Courage Award)
Tennessee Men's Basketball Head Coach, Rick Barnes (2023 Dick Vitale Spirit Award)
The Gala continued its tradition of bringing sports stars across the country together to support pediatric cancer research. Among those who were in attendance included UConn Men's Basketball Head Coach and 2023 National Champion Dan Hurley, Iowa Men's Basketball Head Coach Fran McCaffery, Florida Men's Basketball Head Coach Todd Golden, Florida St. Men's Basketball Head Coach Leonard Hamilton, Texas Men's Basketball Head Coach Rodney Terry, Notre Dame Football Head Coach Marcus Freeman, Former MLB First Baseman Fred McGriff, Former MLB Shortstop and Third Baseman (and 14-Time All-Star) Alex Rodriguez, and ESPN SportsCenter Anchor Kevin Negandhi.
"Dick's energy and relentless dedication to pediatric cancer research is truly remarkable," said Shane Jacobson, CEO of the V Foundation. "Thanks to Dick and his wife Lorraine, we gather every year to raise awareness and money for game-changing research that saves lives. Dick Vitale's All-Courageous Team represents our future in so many ways, and today's cancer research is tomorrow's victory."
Minimal federal funding is dedicated to pediatric cancer research, making private funding through organizations like the V Foundation critical. The Dick Vitale Pediatric Cancer Research Fund has raised almost $80 million for pediatric cancer research, and research is working. 85% of children with cancer now survive 5 years or more. In the mid-1970s, the five-year survival rate was 58% (source: American Cancer Society).
The V Foundation for Cancer Research was founded 30 years ago and has funded more than $310 million in research grants for all cancer types. The organization was announced at the 1993 ESPYS as part of Jim Valvano's iconic speech, with Dick Vitale helping him onto the stage and standing by his side. For more information on the V Foundation's signature events or to donate, visit v.org.
###
About the V Foundation for Cancer Research
The V Foundation for Cancer Research was founded in 1993 by ESPN and the late Jim Valvano, legendary North Carolina State University basketball coach and ESPN commentator. The V Foundation has funded over $310 million in game-changing cancer research grants nationwide through a competitive process strictly supervised by a world-class Scientific Advisory Committee. Because the V Foundation has an endowment to cover administrative expenses, 100% of direct donations are awarded to cancer research and programs. The V team is committed to accelerating Victory Over Cancer®. To learn more, visit v.org.
Contact:
Mykala Healymhealy@coynepr.com
973-588-2069
Mary Kenealy
Mary Kenealy Eventsmary@marykenealyevents.com
941-374-6026