NAPA VALLEY, CA (August 7, 2023) – The V Foundation for Cancer Research, a top-rated cancer research charity, announced the 25th Anniversary V Foundation Wine Celebration, held August 3 – 6, 2023, raised a record-breaking $21 million in the Napa Valley, with 100% of proceeds supporting novel ideas and breakthroughs in cancer research. The goal of exceeding $150 million raised by year 25 was surpassed with a total fundraising effort of over $158 million to date.
"Dr. Seuss said it best, my heart grew three times last night. Our entire community showed up to deliver on what Jimmy asked of us. We laughed, thought, and cried, and we hit an unbelievable number of $21 million. We can double down on cancer research and in our second half of this game, we are going to win," said event co-chair Amy Marks Dornbusch. "There isn't a single partner, donor, volunteer, performer, chef or first-timer who doesn't feel the overwhelming emotion of what we do here, and the future has never looked brighter."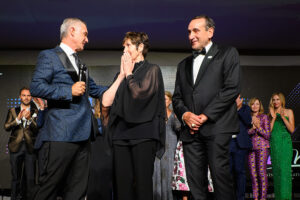 Hosted by Mike "Coach K" Krzyzewski, former Head Coach of Duke University Men's Basketball and V Foundation Board Member, the 25th Anniversary Wine Celebration entertained and educated over 600 guests in the heart of the Napa Valley. From Dinner with the Docs, to the Rock the V party, to the Answer for Cancer Symposium, Gala Dinner & Auction and more, the weekend events held true to Jim Valvano's Don't Give Up…Don't Ever Give Up!® legacy.
"For the past 30 years, the V Foundation has fought hard against cancer. Jim Valvano had a vision and game plan to beat cancer by funding research. We are in this until we win the championship and beat this dreaded disease," stated Mike "Coach K" Krzyzewski.
The 25th Anniversary V Foundation Wine Celebration kicked off on Thursday, August 3rd with the popular Dinner with the Docs, where guests enjoyed a unique opportunity to dine and interact with the world-class oncology experts who make up the V Foundation Scientific Advisory Committee. The evening was hosted by Craig and Kathryn Hall at HALL St. Helena, one of Napa Valley's most heralded vineyard estates. Guests heard from Ethan Zohn, past winner of Survivor: Africa. Zohn is a two-time cancer survivor who inspired the audience with how he applied his skills from surviving Africa to battling cancer twice. Michael Cavanaugh, hand-picked by Billy Joel to star in the Broadway musical Movin' Out, entertained the evening's guests with music from Billy Joel, Elton John and more.
Friday began with the Vintner Grant Luncheon at Spottswoode Family Wine Estate hosted by Lindy Novak, where all the past Vintner honorees were celebrated. Olympic Medalist, World Rowing Champion and breast cancer survivor Kate Johnson and special guest Suleika Jaouad gave a Master Class on 'How to Thrive in the Wake of Life's Unexpected Interruptions.' Jaouad is a New York Times bestselling author for Between Two Kingdoms and creator of the Emmy Award-winning series Life, Interrupted.
Friday culminated with Rock the V, the biggest party of the Wine Celebration Weekend featuring famed restaurateurs and award-winning chefs paired with wines from renowned regional vintners, an exciting barrel auction, and a fabulous lineup of musical acts featuring Arkai, an award-winning electroacoustic duo that has inspired audiences around the world through their genre-defying electric violins, and Eightlock Band, featuring GRAMMY Award® winning Gallant.
Saturday started off with the Answer for Cancer Symposium, where guests learned first-hand from V Grantees about their advances and cancer research. A weekend highlight was Saturday's Music as Healing Luncheon, which posed the question: 'Can music really make us well?' Moderated by Amy Marks Dornbusch, co-chair of the Wine Celebration, guests learned more about the explosion of research and interest in the intersection of music, health, and well-being in the last five years and what is on the horizon for the future. The Music as Healing Luncheon featured Project: Music Heals Us founder and Juilliard violist Molly Carr, two-time GRAMMY® winning artists Time for Three and speaker, educator & opera singer Indre Viskontas.
The Gala Dinner & Auction held at Nickel & Nickel Winery capped off the event weekend, with dinner prepared by Michelin Star and James Beard award-winning chef Michael Mina and where proprietress Beth Nickel was honored with the inaugural V Foundation Wine Celebration Humanitarian Award for her dedication and support over the Wine Celebration's 25-year history. In addition, V Foundation CEO Shane Jacobson announced that the Wine Celebration's annual cancer symposium will now be officially named the Krzyzewski Family Answer for Cancer Symposium.
The live auction included dozens of incredible lots up for bid. The evening's top lots featured a variety of one-of-a-kind wine paired experiences such as a private John Legend Concert at Jean-Charles Boisset & Gina Gallo's Wappo Hill Home, a Formula 1 racing experience in Austin, TX coupled with a Napa Valley experience at the grand opening of Bella Union Winery and a selection of Far Niente Cave Selection Cabernet Sauvignons, and an exclusive tennis experience featuring tickets to the Miami Open Finals and Wimbledon Finals, featuring wines by Ernest Vineyards & 32 Winds and a private high tea with Sarah, Duchess of York at Windsor Castle. Other top lots included VIP tickets to Super Bowl LVIII in Las Vegas, with private air transportation provided by NetJets and an 18L 2010 Katheryn Hall Cabernet Sauvignon, and a luxury stay for eight in Tuscany hosted by Exclusive Resorts and Antinori Napa Valley.
The evening's top auction lot came in at $1million for an exclusive dinner with Coach K at Gargiulo Vineyards, and a coveted wine experience with Jeff & Valerie Gargiulo, David & Kary Duncan of Silver Oak and Chuck & Anne McMinn of Vineyard 29. The generosity continued through the fund-a-need, and when the final gavel came down at the end of the auction, $21 million had been raised.
"This evening has provided an enormous sense of pride, hope and most important, optimism for the future," said V Wine Celebration Founder Julie Maples. "I am blessed to be on the same team with all these incredible researchers who are dedicated to Victory Over Cancer®. Congratulations to co-chairs Amy Marks Dornbusch and Derek Reisinger for hitting it out of the park this year! The future looks bright with both of them at the helm."
Since 1999, the V Foundation Wine Celebration has raised over $158 million to support the V Foundation's mission of funding game-changing research and all-star scientists to accelerate victory over cancer and save lives. Currently holding 11 consecutive 4-star (highest) ratings from Charity Navigator, America's largest evaluator of charities, the V Foundation is among the top 2% of all charities evaluated. The V Foundation is also a GuideStar Platinum-rated charity.
The V Foundation has awarded more than $310 million in cancer research grants. Thirty years ago, the diagnosis and prognosis related to cancer were not as optimistic as today. Because of research supported by the V Foundation, there are earlier diagnoses, a better understanding of what causes some cancers, more positive prognoses for some cancers, and therapies designed to kill cancer while preserving the patient's overall health. The V Foundation distributes research grants for all types of cancer to the most promising scientists through a competitive process vetted by its Scientific Advisory Committee.
The 26th Annual V Foundation Wine Celebration will be held on August 1-4, 2024.
For more information about the 25th Anniversary Wine Celebration Weekend, or to make a donation, please visit winecelebration.org. For more information about the V Foundation for Cancer Research, please visit v.org.
# # #
(Event Images Available Upon Request)
About the V Foundation Wine Celebration
Since 1999, the V Foundation Wine Celebration, benefiting the V Foundation for Cancer Research, has raised over $158 million for cancer research and related programs. This three-day signature series of events in the stunning Napa Valley demonstrates that commitment, passion and giving become the catalyst for positive change. For more information, please visit winecelebration.org.
About the V Foundation for Cancer Research
The V Foundation for Cancer Research was founded in 1993 by ESPN and the late Jim Valvano, legendary North Carolina State University basketball coach, and ESPN commentator. The V Foundation has funded over $310 million in game-changing cancer research grants nationwide through a competitive process strictly supervised by a world-class Scientific Advisory Committee. Because the V Foundation has an endowment to cover administrative expenses, 100% of direct donations are awarded to cancer research and programs. The V team is committed to accelerating Victory Over Cancer®. To learn more, visit v.org.
MEDIA CONTACTS:
Tom Fuller/Monty Sander
Fuller & Sander Communications
707-486-8968/707-480-8635
tom@fullerandsander.com/monty@fullerandsander.com