Meet April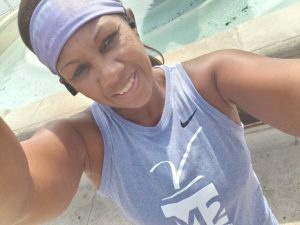 April Bynum was training and expecting to run the TCS New York City Marathon on November 1, 2020.  But like most things this year, the pandemic brought a change of plans. Despite the cancellation of the big event, April stayed motivated—and hatched a plan that astonished friends and strangers alike.
"I run to fight cancer. A marathon cancellation isn't going to stop cancer, so why should it stop me?"
April is all too familiar with cancer and its toll on families. Her father passed away from prostate and lung cancer, and her brother from pancreatic cancer. Additionally, April has lost nine aunts and uncles from the disease.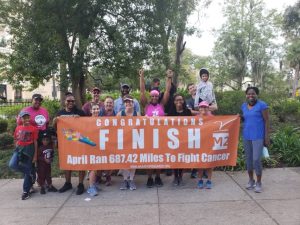 Running a marathon wasn't enough for April; she wanted to run a marathon squared, 687.42 miles! And she passionately raised funds for cancer research while she ran. Cancer research is extremely important to April and her family because it brings hope for better cancer prevention, detection and treatments. She runs so one day no one will experience the pain and suffering she and her sister have witnessed through so much loss.
Running six or seven miles each day before work and going on long runs on Saturdays, April completed her mission on October 31, the day before she would have run the New York City Marathon. Several family members and friends finished the last three miles with her physically and via Zoom. The experience was emotional and humbling as April never lost sight of why she was running and supporting cancer research.
Everyone I know has been touched by cancer in some way; they have either had it or know someone who has. Through cancer research, I believe we can achieve the goal to eliminate or greatly decrease the number of people that suffer from this devastating disease.
April Bynum
Donate Now
Fundraise for the Foundation