Meet the Ayodele Family
Without question, Ade Ayodele lived an exemplary life and a made an everlasting impact in his 31 years. A beloved son, brother, fiancé, uncle, nephew, colleague and friend, Ade made sure everyone in his orbit felt secure, supported and connected. Today, his family continues his passion for giving back by creating a lasting legacy for Ade at the V Foundation for Cancer Research.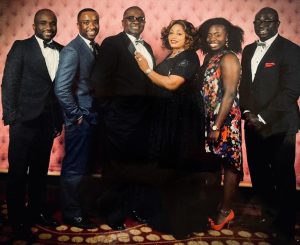 The Ayodele family set out to raise $100,000 to support the Stuart Scott Memorial Cancer Research Fund, a special fund dedicated to improving outcomes for Blacks and other minorities disproportionately affected by cancer. The funds raised in Ade's memory will support a grant to increase awareness and education about the warning signs of early-onset colorectal cancer.
"We chose the V Foundation because it is more than a cancer charity; it is a community which embodies the values of our family," said the Ayodele family.
When they think of Ade, friends and family say 'consistent' is the word that springs to mind; Ade was exceptionally consistent in his career, relationships, faith, health and wellness. He worked to have a positive impact in his community and was especially interested in helping young Black men. In determining ways to raise money in Ade's name, the family carefully selected initiatives that reflect the remarkable person he was. Here's how they succeeded.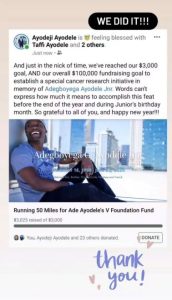 First, they created a Facebook fundraiser to share Ade's story and encourage others to be a part of his legacy. It was evident Ade made an impression on everyone he came in contact with as the fundraiser was widely successful. To keep the momentum going, friends and family built on the fundraiser's success with additional events and strategies:
Ade's Birthday Celebration 5 Miles at 5 AM Fundraiser: Ade was famous for his early, EARLY morning workouts even as he was going through treatment. To commemorate his birthday, on December 15, his friend and Charlotte Hornets colleague established a personal fundraiser at the V Foundation and ran five miles at 5 a.m. to raise funds in Ade's name.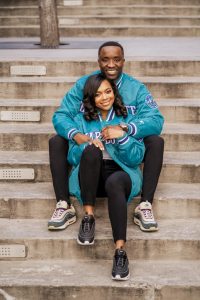 #StayConsistent Awareness Campaign and Merchandise: Ade's fiancé introduced #StayConsistent athletic inspired merchandise with proceeds benefiting the V Foundation. The motto embodies Ade's dedication to hard work, courage and strength. Ade's life inspired family and friends to remain consistent in their everyday goals, as well as their steadfast effort to honor his legacy.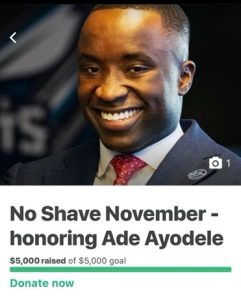 No Shave November: Ade's friend led a special effort to raise money and awareness for cancer research by participating in this classic fall event, fueled by social media.
Matching Gifts: Using the V Foundation's corporate match program, one company generously matched the donation of an employee 5:1.
Run 50 Miles for Ade Challenge: Ade's brother and sister-in-law launched a Facebook fundraiser, each committing to run 50 miles by year-end. As they posted updates on their runs, they made sure to let people know that 100% of the proceeds would be dedicated to improving outcomes for Black people and other minorities disproportionately affected by cancer.
Raising $100,000 is no small task, but the Ayodele family persevered with Jim Valvano's "Don't Give Up. Don't Ever Give Up!" spirit. Now, after attaining their goal, the family is reaching even further with these future endeavors:
The Play for Ade Golf Tournament, an event planned for June 2021 in conjunction with the Charlotte Hornets. The tournament channels Ade's dedication to both golf and mentoring; during his life, Ade enjoyed golf as a way to connect and bond with others, building genuine relationships with mentors and mentees on the course.
Ride for Ade Peloton Challenge: Ade was a Peloton enthusiast who consistently ranked high during group classes and achieved personal records. Because of him, everyone in the family continues riding in his honor.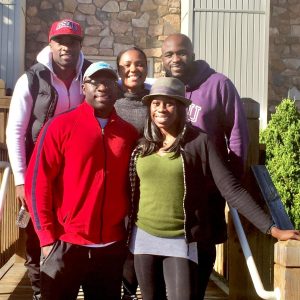 The V Foundation is honored to play a role in Ade's amazing legacy. We look forward to supporting the Ayodele family in their continued work to turn the tables on cancer disparities. You, too, can make a major impact on behalf of a loved one. Find out more here.
Donate Now
Tell Us Your Story