The V Foundation for Cancer Research, a top-rated cancer research charity, is excited to announce an $80,000 donation from Applebee's Restaurants Mid-Atlantic, the local group operating Applebee's restaurants in North and South Carolina. The funds will allow advancements in pediatric cancer research. The check was presented on August 7 at Applebee's Restaurants Mid-Atlantic's March Hoops Awards Dinner. The dinner celebrated the 2019 fundraising initiative and honored the top contributing restaurants and servers.
"We are proud to partner with the V Foundation every year for the last 13 years. Cancer has touched many lives in our Applebee's family, and we are dedicated to helping fund research for new technologies and treatments," said Elizabeth McGee, Vice President of Operations of Applebee's Restaurants Mid-Atlantic.
Applebee's Restaurants Mid-Atlantic has been a constant supporter of cancer research. Since 2006, the group has fundraised and donated $1.6 million to pediatric cancer research through to the V Foundation. Among the grants is Corinne Linardic, M.D., Ph.D., at Duke Cancer Institute. Linardic was awarded a Designated Grant from the V Foundation in 2015 for her research of rhabdomyosarcoma, the most common soft tissue cancer in children. She spoke to those in attendance at the awards dinner to thank the group for their dedication to pediatric cancer research and to provide an update on her research.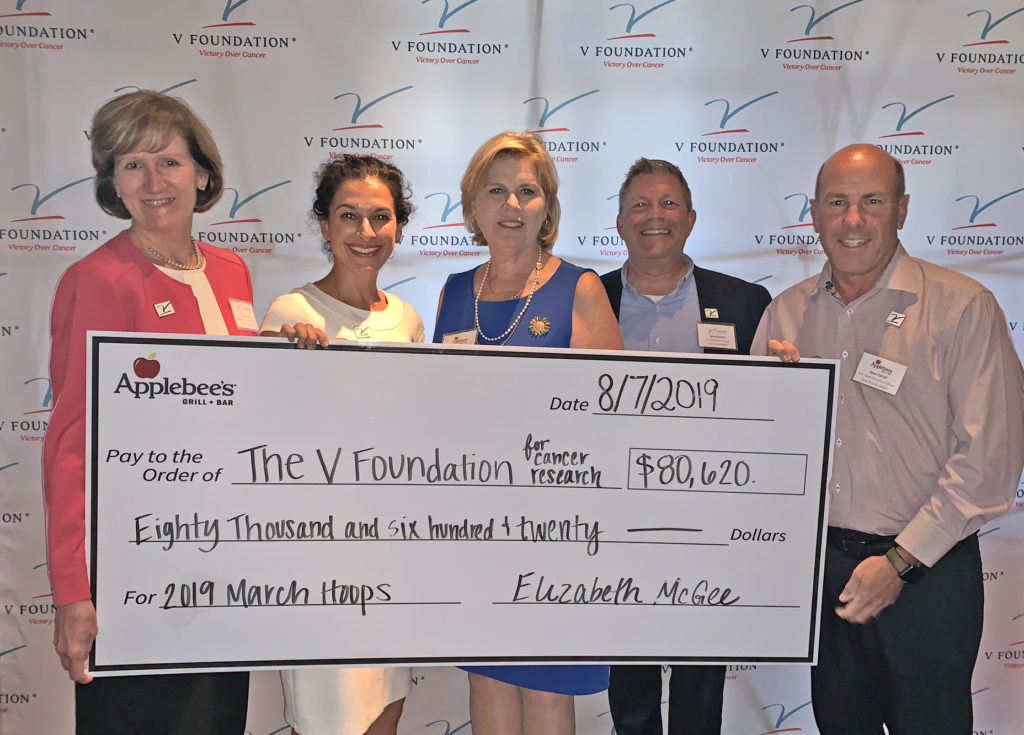 "What an incredible partner Applebee's Restaurants Mid-Atlantic has been," said Susan Braun, CEO of the V Foundation. "With their support, we are pushing back against childhood cancer. We are funding the very best researchers, like Dr. Linardic, to help our youngest patients survive cancer and live long and healthy lives. Together, we are looking toward Victory Over Cancer®."
The V Foundation has proudly awarded more than $225 million for cutting-edge cancer research. The V Foundation holds a 4-star (highest) rating from Charity Navigator, America's largest evaluator of charities, and is among the top 3% of cancer charities evaluated. The Foundation is a GuideStar platinum-rated charity.
About Applebee's Mid-Atlantic
Applebee's Mid-Atlantic is a company-owned restaurant group that operates 69 locations within North Carolina and South Carolina. Applebee's Mid-Atlantic strives to be a recognized leader in both the casual dining industry and in local charitable fundraising. For more information on Applebee's Mid-Atlantic restaurants, please visit www.applebees.com.