Battling the Unique Cancer Challenges Faced by the LGBTQ Community
How Matthew Schabath, Ph.D., and Moffitt Cancer Center are Leading the Way in LGBTQ Disparities Research
Members of the LGBTQ community diagnosed with cancer often face different challenges in their cancer care. Research has shown LGBTQ communities are at risk for poor access to cancer prevention, screening and high-quality care. These disparities, like those of racial, ethnic, geographical, and military status, must be researched to level the playing field for all.
Matthew Schabath, Ph.D., a researcher funded by the V Foundation in 2009, is currently a Distinguished Scholar and Co-Leader of the Cancer Epidemiology Program at Moffitt Cancer Center in Tampa, Florida. He has assisted Moffitt Cancer Center in leading the way in LGBTQ cancer disparities research. He and the team at Moffitt launched a new initiative almost a decade ago focusing on reducing those disparities.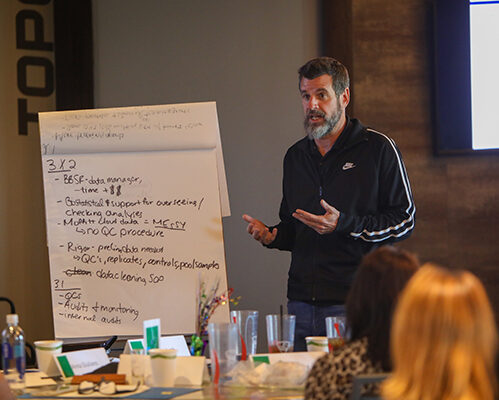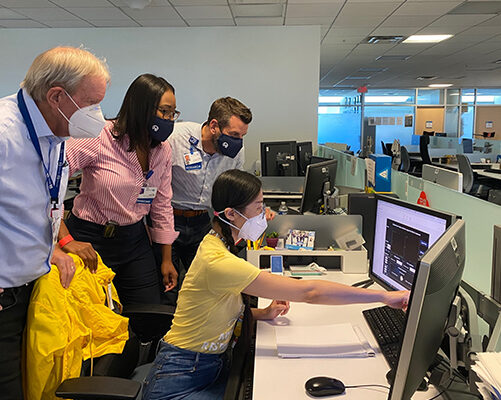 "It's important to us in the field of public health and medical research that we need to deliver healthcare to everybody with equity, and in particular our minoritized and underserved populations," Dr. Schabath said.
Moffitt was one of the first cancer centers in the United States to incorporate sexual orientation and gender identity as a demographic. By doing so, Dr. Schabath's team has collected extensive data that has helped them identify challenges the LGBTQ community faces with cancer.
Through the research at Moffitt, Dr. Schabath and his team are leading the way in educating other oncologists about the unique healthcare needs of the LGBTQ community. They've created cultural competency training that educates oncologists about providing equitable and personalized cancer care for LGBTQ patients with cancer.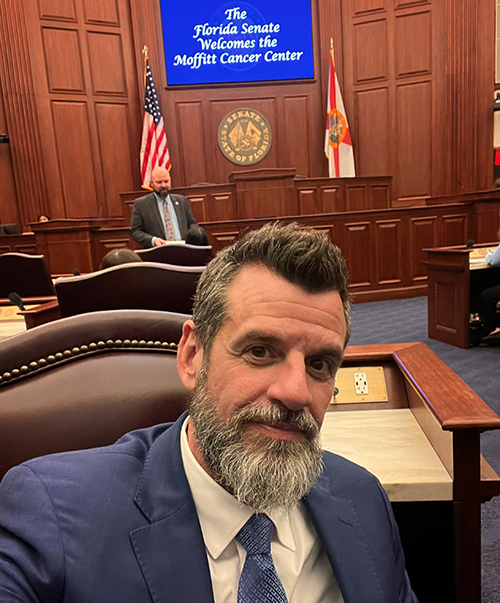 "We've shown in other areas, if you spend time, effort and money, that we can make improvements in those disparities. By no means have we had an even playing field, but we've helped close some of those gaps. I think that's such a rewarding area of research and I get so much pleasure in working in disparities research."
For Dr. Schabath, getting involved in cancer research was a case of the stars aligning. Following high school, he served in the Navy for four years before college. There, he started as a marine biologist, but after working in swamps for a couple of years, he decided to pick up a second major of molecular biology. In this new major, a professor helped him define his passions, resulting in his study of cancer epidemiology.
Early in his career, Dr. Schabath received a V Foundation grant, along with five other researchers at Moffitt. As an early-stage investigator at that time, this funding allowed Dr. Schabath to experience team-based science, bringing together expertise from diverse research and medical backgrounds.
"The funding we received, it was the first time of true team-science approach that I've been involved with," Dr. Schabath said. "It really launched and changed my career trajectory. Pathologists, medical oncologists, surgeons, bioinformatics, and epidemiologists like me, all at the table to address the most pressing concerns and bringing in diverse viewpoints."
Since then, over a 20-year career with more than 210 peer-reviewed publications, Dr. Schabath has made a large impact on the cancer-fighting field. Now, he's excited to move forward with the research done and increase his impact in battling LGBTQ inequities.
"We have a roadmap now. We see what is happening in real time, and now we are at the beginning phases to start launching initiatives to try to mitigate some of these disparities that we're identifying."