Damian Wroblewski Jr. Continues to Fight with a Unique Connection to the V Foundation
When 13-year-old Damian Wroblewski Jr., and his family were faced with decisions they never imagined they would have to make, the name recognition of the V Foundation offered a sense of comfort.
Damian was diagnosed with a pediatric brain tumor on December 17, 2021. It was out of the blue – he was a healthy, active and normal kid. The first sign was during exercise. He was on his school's cross country team and doing stretches when he realized something was not quite right. While doing toe raises, his right foot wasn't quite moving like the left.
His dad, Damian Wroblewski Sr., is the offensive line coach and associate head coach for the football team at James Madison University. So, with concerns of it being a running-related injury, Coach Wroblewski took Damian to the James Madison medical staff he works with daily. After doing some tests, they recommended getting a full-body MRI of the nervous system.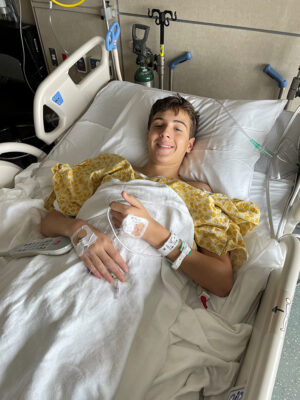 "It was a 'growth,'" Coach Wroblewski said. "That is what we were told at first – it was a growth. That began the process of figuring out what it was."
After the MRI came a biopsy to determine exactly what might be going on. Those results came back on December 17, revealing a pediatric high-grade glioma tumor.
The next steps were treatment options. The Wroblewskis have received great care from their local medical institutions at the University of Virginia and the Children's National Hospital in Washington, D.C. On top of the diagnosis, the treatment options and meetings with doctors were overwhelming, but one name gave an element of comfort.
"We were discussing with several different doctors what plan to go with and what is best," Coach Wroblewski said. "When you are a novice in all this stuff, it is kind of unique. You read all these words and they are not easy to say. We were reading one of the clinical trials and somewhere in there it said, 'funded by the V Foundation.'"
Coach Wroblewski immediately recognized the V Foundation for its founder – Jim Valvano. After the excitement of seeing 'funded by the V Foundation' on the list, he pulled up Valvano's iconic 1993 ESPYS speech to show his son just moments later.
Coach Wroblewski grew up in Rhode Island watching Big East basketball. Although a college football coach, he remains a college basketball fan. He remembers watching Jim Valvano coach and the speech he gave on March 4, 1993 live. But now the speech has a whole new meaning, and he could share it with his son.
The Wroblewski family chose for Damian to participate in the V-funded clinical trial and began in March. Although the trial is based on the west coast, Damian has been able to participate using tele-meetings to track his status. His treatment is a targeting therapy that is specific to him, with emphasis on gentler therapies allowing him to have a normal lifestyle.
When the Wroblewski family embarked on this fight, their community around them immediately wanted to help. People offered meals, to help with transportation and to assist with the finances. But Damian wouldn't accept money; rather, he wanted it to go to help others. He wanted to pay it forward.
"A ton of people wanted to help, and I would feel guilty taking the money myself," Damian said. "So, I decided to give it to pediatric cancer research. That department, despite being one of the most important, is very underfunded."
Damian orchestrated a fundraiser to give back to pediatric cancer research at the Children's National Hospital in Washington, D.C., one of the hospitals where he'd been treated. During his battle, Damian has seen the importance of investing in cancer research to help people in the future. To date, his fundraiser has raised over $40,000 for pediatric cancer research.
"All the money goes to their [Children's National Hospital] pediatric cancer research department," Damian said. "It might not necessarily help me directly, but it will help other people in the future."
As Damian is going through his treatments, he keeps a positive outlook. He enjoys hanging out with his friends, fishing, target shooting and going to his dad's football games. His community has been amazing – his school, teachers and friends have all rallied to support him and his family.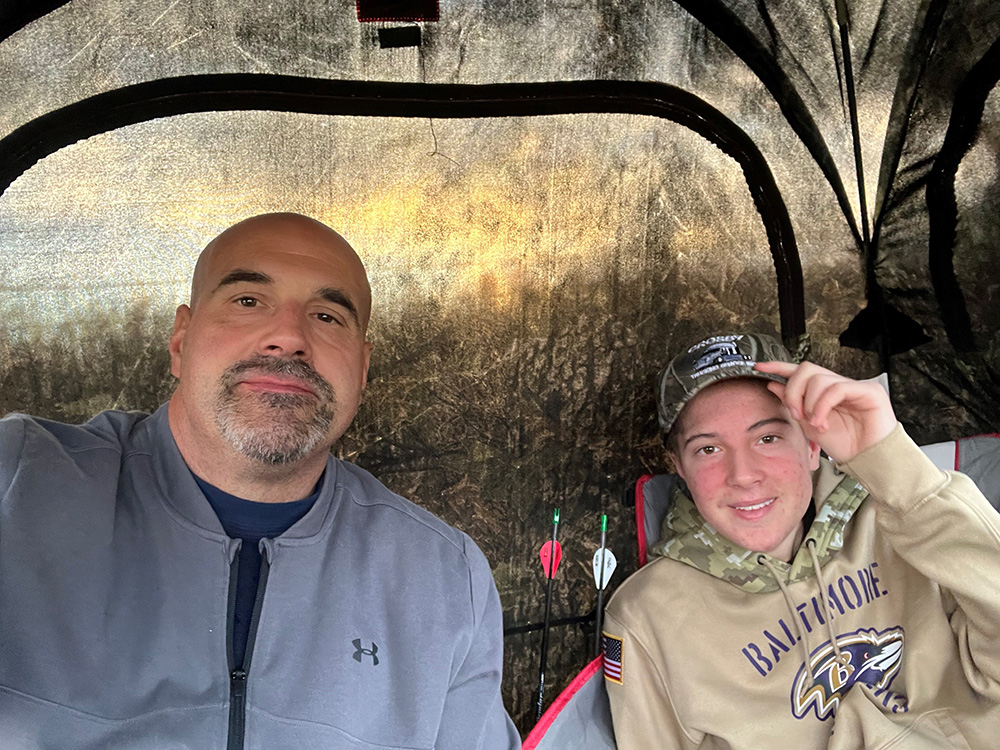 Damian knows that his life is bigger than his battle. He and his family know how special each day is. Some days are hard, but other days are not. On the easy days, enjoy them. But on the days that are hard, you deal with them.
To fundraise for cancer research is admirable, but to do that while battling cancer … indescribable. He's served as an inspiration for many, including his father.
"Proud might be an understatement," Coach Wroblewski said. "He is an inspiration to me every day. To see your child go through those things and get up and smile the next day is incredible. Even when he is having a rough day, he still wants to laugh and live. To say that is inspiring might be an understatement."
In 2023, the V Foundation is celebrating 30 years of granting funds toward game-changing cancer research. In its existence, the V Foundation has funded nearly 1,200 cancer research grants totaling over $310 million. Today's cancer research is tomorrow's victory. Donate today at v.org.
Interested in sharing your story with the V Foundation? Click here.