The COVID-19 pandemic has changed most aspects of our life. Kids are learning remotely, parents are working from home, and we are unable to gather in large groups. But one thing hasn't changed: Cancer continues. Every day, peoples' lives are turned upside down when they hear the words: "You have cancer."
We know raising money to fund innovative cancer research is as important today as ever. And while it may seem impossible to move forward with a fundraiser given life these days, we're here to let you know you can still make it happen! A little creativity and ingenuity can help you make a few small adjustments so your fundraiser is still a hit.
Going Virtual
Earlier this year, Mania Club was unsure how its yearly fundraiser would go on. The group of WWE super fans hosts an in-person tailgate each year at WrestleMania, and with the event not allowing fans, changes were needed. But that didn't stop them.
"We were planning a tailgate with an expected attendance of close to 5,000 people," said Mania Club's co-founder Ashontay Owens. "But cancer doesn't stop, so Mania Club doesn't stop."
The group took the tailgate online via a virtual video conference, hosted a contest among members and even got a WWE Superstar to join the conference and judge the contest. Despite everything working against them, they reached their fundraising goal of $20,000.
"It was truly amazing seeing everyone come together for a common purpose, if only for a couple hours," said Owens.
Matt Florio, the Senior Vice President of Event Operations for Legendary Sports Group, which runs the Alumni Challenge, tries to look at the potential positives.
"We were forced to move the race to a virtual event, so it will allow us to reach a broader audience. We're hoping moving to virtual will allow people to get involved from all over the country," said Florio.
Making the Ask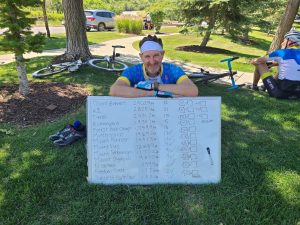 Even if you can successfully navigate around gathering a large number of people together, asking for donations during a pandemic can feel difficult. Ron Chatfield's original event was cancelled, but he chose to ride and raise money for cancer research by Everesting in Utah. While his physical challenge was climbing over 29,000 feet on his bike, he thought it might be difficult to raise money in the midst of COVID-19.
"Some people are struggling in 2020 to stay afloat, so my goal was make it about the cause and not me," said Chatfield. "My line was simple: 'Cancer patients can't choose their bad days. Will you donate to help cancer patients have some better days?' "
You never know who might say yes; you just have to ask. Unfortunately, nearly everyone you know is impacted by cancer in some way. And although the COVID-19 pandemic has changed our day-to-day lives in a major way, it cannot stop us from continuing to fundraise. It cannot stop us from rallying our friends, families and communities. And it cannot stop us from achieving Victory Over Cancer®.