Silently, the whole room rose to its feet.
"I will tell you this Jimmy V, my man, we are not going to stop chasing the dream of raising dollars and your dream, Jimmy's dream, to beat cancer. We must do it. Because it doesn't discriminate. It comes after all … Take a look at the room. It doesn't matter — race, religion. It will bring you to your knees. There is only one way to beat it, my friends. We have to raise dollars and give the oncologists a fighting chance."
Keep chasing your dreams!! You're an inspiration to us all @DickieV @TheVFoundation https://t.co/K4KMypqvI0 pic.twitter.com/hsNeertPDq

— Stephen Curry (@StephenCurry30) July 21, 2022
Vitale's speech was an inspiration, drawing social media reactions from notable names in the sports world, such as Stephen Curry, Jay Bilas, Jeff Goodman, Todd McShay and many others.
Following the ESPYS, Vitale penned a thank-you letter. Even then, his dedication to raising money for cancer research rang through. "We need even more dollars to beat this dreaded disease. We have made great strides, but there is a lot more work ahead. If you can donate, please give to the V Foundation."
Vitale has been a champion for pediatric research for over 20 years. Through his efforts, the Dick Vitale Pediatric Cancer Research Fund at the V Foundation has awarded nearly $60 million to fund pediatric research. His commitment to cancer research, and the inspiration he provided during his own cancer journey, led him to the same ESPYS stage he helped his friend, Jimmy V, walk up to in 1993. Nearly 30 years later, Dickie V accepted the Jimmy V Award for Perseverance.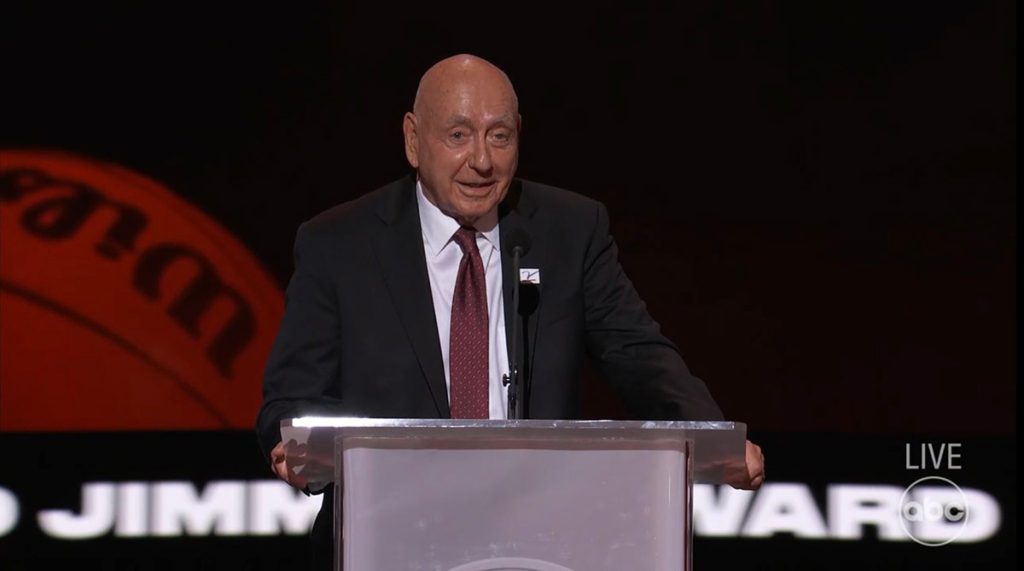 His passion for the mission of achieving Victory Over Cancer stood out the most. Vitale emotionally recalled the names of courageous children battling cancer who make up the Dick Vitale All-Courageous Team. And he continually traced his thoughts back to his great friend.
"What a legacy. A legacy that you can have an unbelievable effect on so many people battling cancer. And that is what Jimmy has done. Save lives. He will go on generation after generation and that is a great legacy to have."
"They [the V Foundation] want to help others. No kid or child should be doing chemo and radiation. I have dedicated myself to that point. As they said, we raised $55 million. It is not enough."
It's not enough, which is why two of Dick's good friends, Mark and Cindy Pentecost, founders of It Works!, are matching all donations, up to $1 million, to support the Dick Vitale Pediatric Cancer Research Fund.
You can join the challenge by going to www.v.org/pediatric-match.
During his address to the ESPYS crowd and the world, Vitale did what he does best and what he has been known for his entire career – he spoke from the heart. His good friend Jimmy V would be proud, and no doubt was proud, standing up from above to applaud his great friend for a job well done.
Flashback 29 years ago to the 1993 ESPYS Awards, the first of many. After introducing him, Vitale assisted his friend and colleague Jim Valvano to the stage to accept the Arthur Ashe Courage Award. Valvano had pleaded with them to get him on the stage although he was extremely sick. Vitale recalls thinking he was simply going to say, "thank you" and return to his seat.
Instead, Vitale stood beside his friend for the entirety of the iconic speech. The speech delivered by Valvano was unforgettable and introduced and inspired the work the V Foundation for Cancer Research would do for many years to come.
This story behind the amazing friendship between Dick Vitale and Jim Valvano is so heartwarming ❤️

Join Dickie V in the fight against cancer with a gift to @TheVFoundation: https://t.co/6NwFh3eOwi pic.twitter.com/gDhvJJ1NwD

— ESPN (@espn) July 21, 2022
This year, Vitale stepped to the stage to accept the award with the assistance of his friend and former ESPN President George Bodenheimer, mirroring what he did for his friend almost three decades ago. Then, Vitale never thought that he would be in the position.
Vitale's passion for the game of basketball was never questioned. Ever. He is one of the greatest color commentators of all time and his voice is iconic.
His speech touched on inspirations from the current sports world like Vitali Klitschko and Billie Jean King. Vitale even joked with Los Angeles Rams wide receiver Cooper Kupp about defeating his Tampa Bay Buccaneers in the Super Bowl.
"Tonight, I have been in awe," Vitale said. "Awe. … I am in awe when I see Albert Pujols, Gretchen [Evans], or Vitali [Klitschko]. And if you're not in awe, something's wrong. I am in awe of all the athletes that are here today and the greatness that you possess. The greatness is unbelievable. You should be so proud."
"There is one little formula that I believed in so much growing up as a kid. I was sitting there thinking about it and it really reflects what is in the room and what you are about. Passion. How many times did we hear the word passion today?"
A speech for the ages. pic.twitter.com/sLkB3k3wDW

— The V Foundation (@TheVFoundation) July 21, 2022
Donate Today
---