Cary, N.C. [May 6, 2022] – The V Foundation for Cancer Research, a top-rated cancer charity, and ESPN Hall of Fame Sportscaster Dick Vitale are pleased to announce the 17th Annual Dick Vitale Gala has raised $11.1 million for pediatric cancer research. Held on May 6 at the Ritz-Carlton, Sarasota, the Gala hosted supporters and celebrities to further groundbreaking advancements in childhood cancer research. To date, the gala has helped raise nearly $55 million for the Dick Vitale Pediatric Cancer Research Fund at the V Foundation. This year, Vitale's message took on special meaning as he shared stories of inspiration drawn from his own recent cancer journey. Dick announced his remission in April.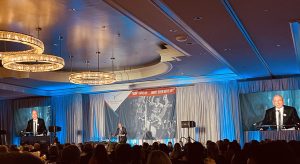 "The true stars at the Gala were the Dickie V All-Courageous Team, which features young cancer survivors," Vitale said. "We surpassed our fundraising goal and are proud to announce that tonight's event raised over $11 million for pediatric cancer research. Thank you to all the generous donors who have contributed this cause."
This year's sold-out event honored NFL superstar and ESPN host Keyshawn Johnson, tennis hall-of-famer and ESPN tennis analyst Chris Evert, and Baylor University men's basketball coach Scott Drew. Vitale also presented the V Foundation John Saunders Courage Award to ESPN college football analyst Rod Gilmore, a fellow cancer survivor.
"Dick Vitale has managed to astound us again," said Shane Jacobson, CEO of the V Foundation. "Immediately after finishing his own cancer journey, he hosts another incredible Gala and raises a record-breaking amount to fund pediatric cancer research through the V Foundation. His efforts are unmatched and our gratitude is overflowing. He is changing the lives of young cancer patients through his efforts."
At the Gala, Jacobson announced a $1 million donation made by Jeff and Penny Vinik to the Dick Vitale Pediatric Cancer Research Fund and issued a challenge to match that $1 million donation to further pediatric cancer research. Jeff and Penny have personally donated nearly $3 million to the V Foundation through the Vinik Family Foundation, and the Lightning Foundation has provided $537,000 in sponsorships for the Dick Vitale Gala.
"Penny and I could not be more proud to support the work of the V Foundation, and there's no better time to give than at Dickie V's Gala," said Jeff, owner of the back-to-back Stanley Cup winning Tampa Bay Lightning. "With so many cancer treatment breakthroughs on the horizon, we feel incredibly hopeful about the future."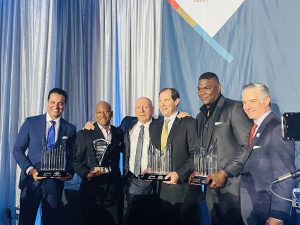 Vitale continues to rally support in the fight against cancer, drawing multiple celebrities to Sarasota for the event. Personalities who were in attendance this year included ESPN "SportsCenter" anchor Kevin Negandhi; basketball hall-of-famer, co-founder of the NBA's Orlando Magic and former general manager of the Philadelphia 76ers Pat Williams; 10-year-old brain cancer survivor and Tampa Bay Buccaneers fan Noah Reeb; ESPN analyst Jay Bilas; former Villanova head men's basketball coach Jay Wright; Notre Dame head men's basketball coach Mike Brey; ESPN broadcaster Chris Fowler; Tampa Bay Buccaneers head football coach Todd Bowles; Michigan State head football coach Mel Tucker; pro tennis three-time grand slam champion and Olympic gold medalist Lindsay Davenport; tennis guru Nick Bollettieri; former Notre Dame and San Francisco 49ers football star and 2022 pro football hall-of-famer Bryant Young; Iona head men's basketball coach and hall-of-famer Rick Pitino; Tennessee head men's basketball coach Rick Barnes; ESPN broadcaster and former NFL player Booger McFarland; basketball commentator Mike Fratello; American professional pool player Jeanette Lee; and more.
Currently, only 4% of federal cancer funding is focused on pediatrics. Yet, pediatric cancers are the leading cause of death of American children over the age of one, with more than 15,000 children and adolescents diagnosed each year in the U.S. Private funding has become a critical component of advancing pediatric cancer research.
At the 2022 gala, it was announced that Dick Vitale would receive the Jimmy V Perseverance Award at the 2022 ESPYS. In honor of Dick's award, Mark and Cindy Pentecost, founders of It Works!, announced they will match all of your donations, up to $1 million, to the Dick Vitale Pediatric Cancer Research Fund. Learn more about the match here.
The 18th annual Dick Vitale Gala, benefiting the V Foundation, will be held May 5, 2023, at the Ritz-Carlton in Sarasota, Florida.
The honorees will be:
3-Time World Series Champion with the San Francisco Giants, Buster Posey
NBA Hall of Famer, David Robinson
ESPN Tennis Analysts, John and Patrick McEnroe
The John Saunders Courage Award will go to NC State Hall of Famer Derek Whittenburg. The Dick Vitale Spirit Award will go to Tennessee Men's Basketball Head Coach Rick Barnes.
The V Foundation holds 11 consecutive 4-star (highest) ratings from Charity Navigator, America's largest evaluator of charities, making the Foundation among the top 2% of all charities evaluated. The V Foundation is also a GuideStar Platinum-rated charity. To learn more about the V Foundation, please visit v.org.
–
About the V Foundation for Cancer Research
The V Foundation for Cancer Research was founded in 1993 by ESPN and the late Jim Valvano, legendary North Carolina State University basketball coach and ESPN commentator. The V Foundation has funded nearly $290 million in cancer research grants nationwide. Event proceeds benefit cancer research funded by the V Foundation. The Foundation awards game-changing grants through a competitive process strictly supervised by a Scientific Advisory Committee. For more information on the V Foundation, please visit v.org.
Media Contact:
Torrey Winchester
918-638-1413
torrey@intrepidmg.com