Over $1.3 Million Raised Since Event's Inception for Local Cancer Centers & Research Nationwide
Cary, N.C. [May 23, 2022] – The V Foundation for Cancer Research is proud to announce the fifth annual Victory Ride to Cure Cancer presented by Braswell Family Farms raised over $325,000 for cancer research. The event was held on Saturday, May 21, and brought nearly 700 participants to NC State University's Centennial Campus to ride or volunteer in celebration or honor of loved ones affected by cancer. Since its inception, the Victory Ride has raised over $1.3 million for cancer research.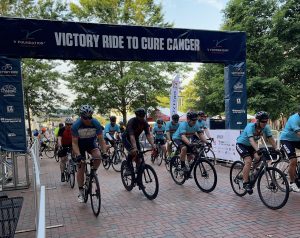 "This amazing event united our community to fight against cancer," said Scott Clausson, a Victory Ride committee member. "We spent months planning to ensure the ride was safe and fun, while also making it a place to honor or remember those who have faced cancer. I'm proud that we raised so much to advance research and am already looking forward to the 2023 Victory Ride!" 
Riders had the option to participate virtually from April 21 through May 21 or in-person on event day. During the MyVictory Month virtual experience, participants from across the country rode any time, any place and with any wheels, sharing their experience with #MyVictory. On Saturday's live ride day, riders cycled 10-, 30-, 60- and 100-mile routes, as well as participated on-site via stationary spin bikes in partnership with CycleBar Brier Creek. Before riders began their scheduled start times, they were served breakfast from Braswell Family Farms. 
The post-event festival had live music from E.G. Peters Band as well as offerings from local breweries, including Bond Brothers Beer Company, Crank Arm Brewing, Gizmo Brew Works, Raleigh Brewing, along with national brand, Corona. There were also local food trucks on-site, including Fiori Trattoria, Gonza Tacos, Gussy's Greek, Beefy Bunz and dessert from Locopops. 
"Ride day was incredible, from the start-line festival, through on-course support and the post-ride party," said Brent Dafforn, a five-time Victory Ride participant and cancer survivor. "The V Foundation hosted a fun day with such a great purpose – advancing cancer research. It was exciting to be part of something that will help our family, friends and communities against such an awful disease."
The V Foundation is proud to host this event in the Triangle, with 100% of rider-raised funds supporting Duke Cancer Institute, UNC Lineberger Comprehensive Cancer Center and the Wake Forest Baptist Health Comprehensive Cancer Center, as well as breakthrough cancer research nationwide. Funding from the 2021 Victory Ride was recently awarded to a collaborative grant between all three cancer centers focused on understanding cancer health disparities among American Indians in North Carolina.  
"This is always such a fun day," said Trey Braswell, fourth generation president of Braswell Family Farms. "I love the competition, the excitement, and the camaraderie.  We consider it a blessing to us at Braswell Family Farms to be able to partner with the V Foundation to put on the Victory Ride to raise money for cancer research."
The V Foundation would like to thank its partners for helping to put on the ride, including presenting partner Braswell Family Farms, as well as CBS 17, iHeart Media Raleigh, Spectrum News and others. For more information about the Victory Ride to Cure Cancer, please visit thevictoryride.org. Follow the Victory Ride on Facebook, Twitter and Instagram at @TheVictoryRide.   
– 
About the V Foundation for Cancer Research   
The V Foundation for Cancer Research was founded in 1993 by ESPN and the late Jim Valvano, legendary North Carolina State University basketball coach and ESPN commentator. The V Foundation has funded nearly $290 million in game-changing cancer research grants nationwide through a competitive process strictly supervised by a world-class Scientific Advisory Committee. Event proceeds benefit cancer research funded by the V Foundation. The V team is committed to accelerating Victory Over Cancer®. To learn more, visit v.org.
Media Contact:
Torrey Winchester
918-638-1413
torrey@intrepidmg.com