Cary, N.C. [May 24, 2022] – The V Foundation for Cancer Research, a top-rated cancer research charity, is excited to welcome Susanna F. Greer, Ph.D., to its executive team as chief scientific officer. In her new position, Greer will advance the Foundation's funding of cutting-edge research. She'll work with the V Foundation's Scientific Advisory Committee to steer funding to the most promising research opportunities, enhance the V Foundation's research portfolio, and further improve communications about the impact of that research. She will be an integral member of the executive team as the Foundation triples its fundraising goals over the next 10 years.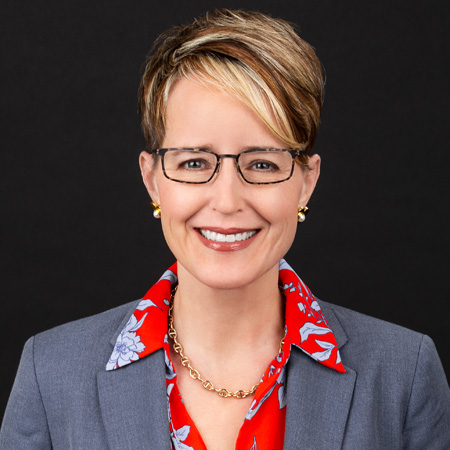 "The addition of Dr. Greer strengthens the V Foundation and ensures we continue on a path toward victory over cancer," said Bill Nelson, M.D., Ph.D., chair of the V Foundation Scientific Advisory Committee. "With her expertise and experience, she will lead our grant making team, build new partnerships, and amplify our efforts in storytelling to further illustrate the long-term impact of the research we fund. As we grow in our grant making, her leadership will play a vital role in our goal to advance research and defeat cancer."
Greer joins the V Foundation team from the American Cancer Society, where she served as the senior scientific director, leading the Biochemistry and Immunology of Cancer Research Program. During her time at the American Cancer Society, she developed grantee advocacy, outreach and engagement activities; cultivated donors and industry partners; launched and hosted the ACS Research podcast, TheoryLab; developed science communications workshops; and led a company-wide intellectual property review and reporting process.
Greer also serves as a member of the Council and the Finance Committee of the American Society for Biochemistry and Molecular Biology (ASBMB) and the External Steering Committee for Nutrition and Cancer Prevention for the National Cancer Institute. Previously, Greer chaired the ASBMB Committee on Science Communication and Outreach, as well as chairing the Committee of Public Affairs for the American Association of Immunologists (AAI).
"I'm excited to join the V Foundation leadership team and focus on funding the nation's most innovative research," said Greer. "All V Foundation employees and the scientists they fund are passionate in their pursuit to end cancer, and it is an honor to join them. I look forward to collaborating with the Scientific Advisory Committee, building strong partnerships, and advancing the research that is saving lives."
Greer was also a Georgia Cancer Coalition Distinguished Cancer Scholar at Georgia State University, where she directed the Molecular Basis of Disease program as a tenured professor in the Department of Biology. For over a decade, she led an immunology research lab responsible for key findings in molecular immunology and new epigenetic targets in cancer. She received her doctorate in immunology from the University of Alabama at Birmingham and completed her postdoctoral fellowship at the University of North Carolina at Chapel Hill.
"Dr. Greer joins the V Foundation leadership team at an extraordinary moment in the history of the organization," said Shane Jacobson, CEO of the V Foundation. "Our ability to expand game-changing research lives at the intersection of strategic investments and mission impact. Our donors have entrusted the V Foundation to fund all-star scientists and help save more lives. With Dr. Greer's experience and vision, we will generate even greater return on every dollar generously given to achieve victory over cancer."
For more information about the V Foundation and its mission, please visit v.org.
–
About the V Foundation for Cancer Research 
The V Foundation for Cancer Research was founded in 1993 by ESPN and the late Jim Valvano, legendary North Carolina State University basketball coach and ESPN commentator. The V Foundation has funded nearly $290 million in game-changing cancer research grants nationwide through a competitive process strictly supervised by a world-class Scientific Advisory Committee. Because the V Foundation has an endowment to cover administrative expenses, 100% of direct donations is awarded to cancer research and programs.  The V team is committed to accelerating Victory Over Cancer®. To learn more, visit v.org.
Media Contact:
Torrey Winchester
918-638-1413
torrey@intrepidmg.com