The V Foundation for Cancer Research is successful thanks to the contributions of many – donors, corporate partners, our incredible Board and Scientific Advisory Committee and the amazing researchers to whom we award grants. With "In Their Own Words," we sit down with key members of our team to learn more about their commitment to the V Foundation and their personal desire to put an end to cancer. In this edition, we chat with V Board Member Mike MacDonald.
The V Foundation: How has cancer affected you personally?
Mike MacDonald: Cancer has affected my family a great deal. My brother died of esophageal cancer in 2012 and my sister also died of cancer a few years later. So, I've had two members of my family die from it. It's had a big impact on me and my family.
TVF: What is it about the V Foundation that is so special to you?
MM: The V Foundation has always been special to me because I worked for Jim Valvano for two years as a coach at Iona, and played against him as a player when I was at Rutgers and he was coaching Bucknell. So, I've known Jim and his family since I was 18 years old. When Pam and Nick asked me to join the V Foundation, I was in the second group after the founders. At the time I was a vice president at Xerox, and I was brought in to help on the business side with raising money. I've been very proud to be a Board Member for almost 30 years to see the organization grow and develop. It's always been the number one thing for me. I'm retired now from business and the V Foundation is now the only thing I focus on.
TVF: What has it been like for someone who has been with the Foundation for such a long time to see the organization grow, and witness the benefits of the research the Foundation's work has funded?
MM: It's been incredible to see the Foundation grow from a small organization. I mean, I remember when the staff had nine people when we were just starting. I think under the leadership of Nick Valvano and then Susan Braun, it's been amazing to see the amount of development and amount of money that's been raised. I think we are well positioned as one of the top cancer foundations moving forward.
TVF: What advice would you give to someone with a loved one who is currently dealing with cancer?
MM: I think the first thing is you have to be empathetic to the individual and make sure they are getting the best care they can possibly get, make sure they are going to the right places and have the right doctors. It's a terrible disease, but I think being there for people, listening, trying to do whatever you can is so important.
TVF: You have a new book out, called "From the Bench to the Boardroom". What can people expect when they read it?
MM: The book is a story about a kid who grew up in a lower-middle class neighborhood in Philadelphia, and went through a lot of adversity. I had a chance to play on one of the greatest teams ever at Rutgers, and played behind four future NBA players, so I didn't get a chance to play much, but a lot of the things I learned at Rutgers, teamwork, leadership, those traits you pick up through sports went on to help me in life. Then the book talks about the impact of working for Jim, how to motivate people. It also talks about the value of the V Foundation, how being around some of the great people on the Board helped me develop wonderful life skills as well. It's a story about how you don't have to be the star in a sport, but any athlete can achieve great things if they learn from their experiences.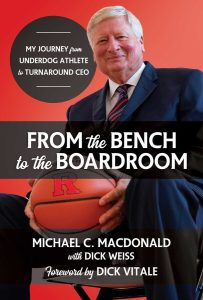 TVF: What would Victory Over Cancer® look like to you?
MM: We've made great progress in a lot of cancers, but we still have a lot of work to do in many of the rare cancers, especially pediatric cancers. All of the money raised from this book will go towards the Dick Vitale Pediatric Cancer Fund. I think research on pediatric cancer is just the most important work we can do, so kids don't lose their lives at early ages.