Meet Emily: Diver. Survivor. Advocate
University of North Carolina diver Emily Grund was shocked to receive a leukemia diagnosis in 2021 but overcame the challenge with a renewed sense of pride and advocacy.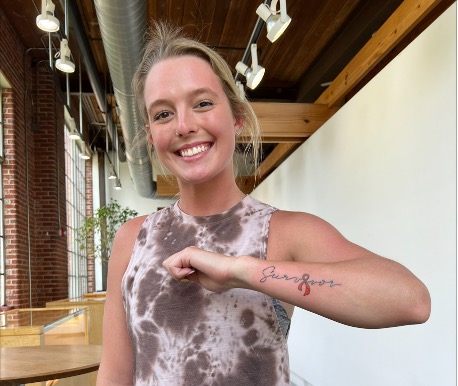 Emily Grund enters 2023 in the midst of her final year of eligibility as a collegiate diver at the University of North Carolina with a new outlook.
Throughout her collegiate career, Emily had an abundance of success. She qualified for three consecutive NCAA Championships and placed in the Top 20 in the one- and three-meter springboard competitions in 2021. In 2022, she had her sights set on bettering her score at NCAAs.
Now, her goals have changed. Her mindset has changed. Actually, nearly everything has changed.
A single word tattooed in cursive handwriting on her left arm denotes that – SURVIVOR. She got it for herself but loves people asking her about it.
"The day after I finished chemotherapy, I got 'survivor' tattooed on my arm on a place that I can see it and be reminded of it every day and for other people to see it and ask me about it. It's something I am prideful in being, I'm very proud of being a cancer survivor. It is a very important chapter in my book that I call life."
It started with a bruise.
Emily was in the locker room preparing for practice when a teammate asked her where the bruise on her leg came from. It was the size of a golf ball. Emily wasn't sure, so she shrugged it off and went to practice.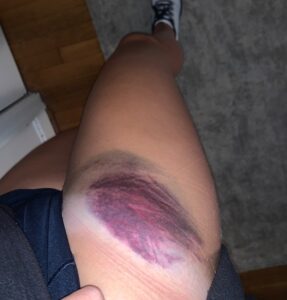 The next morning when she woke up, the bruise had grown significantly. At that point, she called her athletic trainer and parents, who suggested going to her primary care physician at UNC Campus Health. She did.
While meeting with her doctor, he started asking her questions that changed the course of her life. A few hours later, and after doing bloodwork, Emily finally was on her way home. But she didn't even make it to her apartment 15 minutes away before her doctor called her. He said words that she would never forget – "pack a bag and have someone drive you to the Emergency Room".
When she arrived at the hospital she was taken to a room for more bloodwork. A nurse came in and listed what they could learn from the bloodwork, things like infection, diseases and cancer. The last one caught her attention.
That was the first time Emily heard the word cancer in association with herself. She never would have imagined it, especially not as a 21-year-old college athlete. She was shocked, panicked and scared. Crying profusely, all alone in a hospital room, she continued with the tests and waited for answers.
Later in the day, still without any answers, there was a knock on her door.
"Hi, I'm Dr. Van and I'm the Leukemia Specialist at UNC Hospitals."
Leukemia. Cancer.
After being diagnosed, Emily's fight began immediately. She began in-patient treatment quickly and spent the next 34 days at the hospital.
"Going from a world-class athlete to barely being able to walk 10 steps in a matter of 2 days is unbelievable. It's amazing how little things like that can affect your body. I just took everything for granted."
She tried to maintain her stamina during treatment by walking a quarter of a mile each day. Some days were easier than others.
The following weeks and treatments were tough, both mentally and physically. Emily stayed busy and had a strong support system.
First, she never took a break from school. In a little over a month at the hospital, she had two exams and a paper. School took up much of her focus, which felt normal and helped get her mind off what she was going through.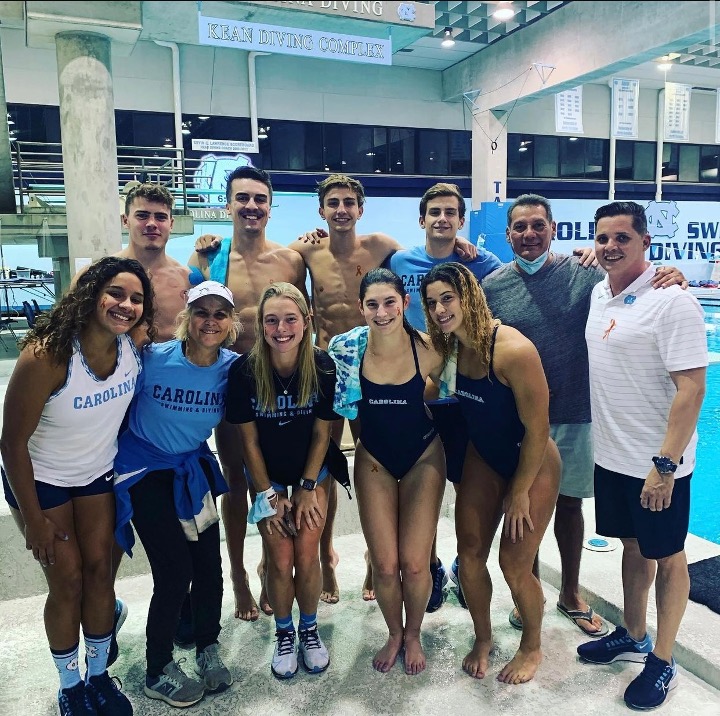 Emily's support system started with her parents. When she first went to the emergency room, her dad got in his car in the Dallas, Texas, area and immediately started driving. He drove nearly 16 hours straight to reach Chapel Hill, N.C., to be with her. Her mom got on the first flight to North Carolina the next day. Her parents visited her often, making sure she was as comfortable as she could be.
"I missed my freedom a little bit, but I understood why they wanted to be near me and I appreciated them putting some of their life on hold to see me," Emily said. "While it was annoying at the time, looking back I appreciate it."
In addition to her family, Emily drew strength from her teammates and friends. Her friends continued to include her in all activities, being cautious of what she could and couldn't do while being treated.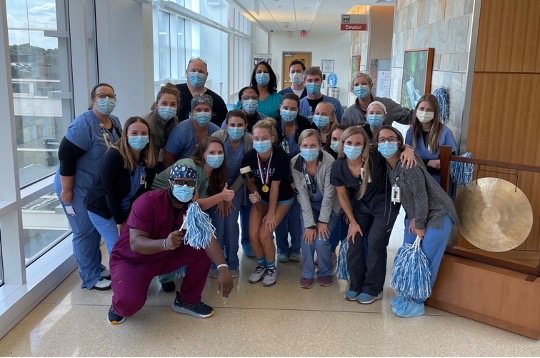 The North Carolina swimming & diving program honored her in her absence by drawing ribbons on their faces to represent her. In addition, they spent many afternoons visiting her in the hospital.
"Every Thursday, the divers would skip practice and come hang out with me instead, which I appreciated, and they loved as well because they got to miss practice. It was a win-win."
It was a long road, but with perseverance and her support system, she was able to finish treatment and is in remission.
Emily: The Survivor and Advocate
Now, Emily is passionate about sharing her story, supporting cancer philanthropy and encouraging others who are fighting cancer.
Emily's outlook heading into her final season of collegiate diving completely changed. After being so low during treatment, she has worked hard to return to competitive form.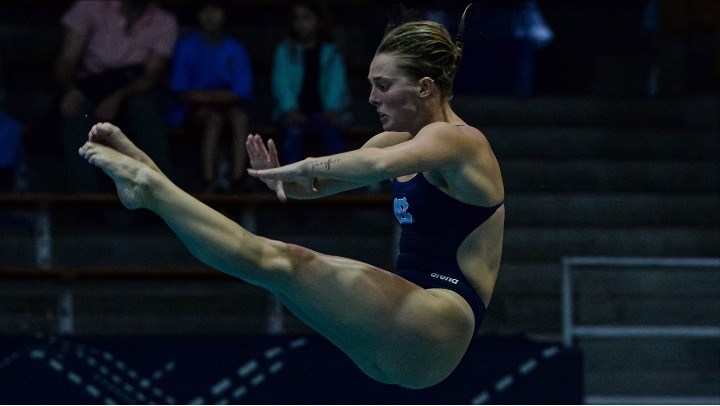 "I knew I would be able to get back to diving eventually; there was just a little bump in the road and I would have to get over that first," Emily said. "I loved diving before, but I love diving now because I think I took it for granted. Now, I'm trying to take this last year and make the most of it because I know it can be taken away in the snap of a finger."
After wrapping up her diving career this year, Emily is planning on pursuing graduate school programs for speech and hearing scientists. She hopes to be a speech therapist to help people do things that are often taken for granted. This passion renewed itself while she was in the hospital and incapable of doing simple tasks.
Emily's passion for cancer philanthropies, like the V Foundation, snuck up on her. It didn't become real until she was faced with cancer. Now, it's one of her biggest passions.
"It's not something that I ever thought about," Emily stated. "I've had cancer in my family before, and I just didn't think twice about it until it happened to me and that is so unfortunate. It affects so many more people than you think it does. I want to bring awareness to that. The situations these people are going through are incredible and hard."
Cancer research has improved the treatment options and outcomes of many faced with the disease. For Emily, what was done in the past allowed her to overcome her battle with leukemia and return to her life as a collegiate athlete. For that, she is forever grateful.
"It can help so many people in so many different ways," Emily said. "Thirty years ago, my type of leukemia didn't have as good of a prognosis as it does now. It's because of cancer research that I was able to come out the other end and do what I want to do at 21 years old. It could have been a very different outcome if it wasn't for cancer research."
Instead of a different outcome, Emily has a new outlook – on a long life ahead.