Harper is a nine-year-old who swims, rides bikes, loves animals, and dabbles in fashion.
She is also one of the more than 15,000 U.S. children diagnosed with pediatric cancer in 2021. But Harper is not a statistic. She is a little girl with a contagious smile and a huge heart. While undergoing treatment for leukemia, she decided to nurture something positive out of something very scary. Early in her treatment she planted a seed that has blossomed into more than $24,000 donated to cancer research.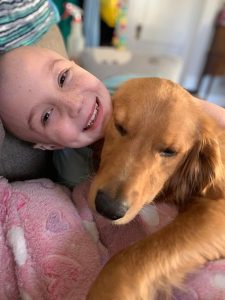 Every word Heather Hindin uses to describe her daughter is filled with warmth, admiration, and awe.
"Harper is such a kind and thoughtful friend. She is articulate and passionate and around kids her age, she is empathetic and solves problems," said Heather. "She has made a lot of friends at Duke, spending time with younger kids. And she is well known for making personalized get-well cards and doing laps with others on their unit."
From Playful to Cancer Patient
In 2021, just after school returned to in-person instruction, Harper would come home with headaches, and she was falling asleep a lot. It looked like something the pediatrician had seen in lots of kids who were getting back to a more normal school routine. But Harper didn't adjust like other kids, and her symptoms didn't improve.
While on a short getaway, her mom noticed dark circles under her eyes and an indescribable fatigue. Harper was just not herself. While they were playing with make-up, Heather noticed several swollen lymph nodes and asked Harper's doctor for some blood work to be drawn. The results were startling.
"We're deciding if Harper needs to come to the emergency department tonight or if we can meet you there tomorrow," the nurse practitioner told Heather over the phone. They ultimately decided that Harper could spend the night at home. They gave her mom a list of things to watch for and Heather experienced one of the longest nights of her life.
"I called my parents to come to town. I knew what it was. A little after 10:00 that morning, the medical team came in and told us it was leukemia. A lot of what happened after that is a blur to me. She immediately needed a blood transfusion – her biopsy was almost entirely leukemia – that's how bad it was," Heather recalled.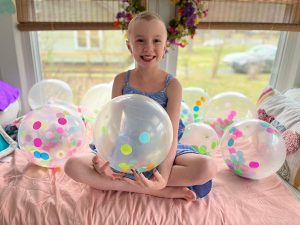 "Harper asked if she was going to die. I told her she wasn't, then she asked if she was going to lose all of her hair. Those are the two of the things I remember most clearly. We had an immediate transition from hearing that she had cancer to having social workers and child life specialists help facilitate our move to the inpatient setting. We didn't leave the hospital for 9 days."
Harper's team set a plan for treatment, and even when they veered a little off course, the goal remained the same – victory over cancer.
Leukemia is one of the cancers in which we've seen tremendous progress from research. There has been a 70% reduction in pediatric deaths from some leukemias between 1975 and 2016. Children have better options for treatment. They are surviving and they are thriving. It takes research to solve the problem of cancer. And research takes money.
Giving Back to Cancer Research
"Harper received a package from Coach K [retired Duke basketball coach, family friend, and V Foundation board member Mike Krzyzewski] when she was diagnosed," said Heather. "We talked about how people take bad things and make good things out of them. We started every night saying things we are grateful for. We have the resources we need, and she has an informed advocate. So we started talking about ways to give back. She is an amazing person. She is so kind and selfless. It's incomprehensible that she is going through all this and still wants to help people. Research is so meaningful to us. Those leaps and bounds [in survival rates] could not be possible without research and funding for research. We decided we wanted to further that research."
Harper hosted a fundraising campaign selling t-shirts that was wildly successful. With the money raised, she chose to support research funded by the V Foundation. Because of her hard work and generosity – and the hard work and generosity of so many V Foundation supporters – we are funding the science that is saving lives, including Harper's.
Heather's sister had a friend with the same type of cancer as Harper, and she was diagnosed more than 25 years ago. There were not as many options for her, and sadly, she passed away. That memory has stayed with the family and motivated them. They want to make a difference. Today, outcomes are changing because we are advancing research. Kids like Harper are bravely facing and beating cancer.
The V Foundation is proud to have a matching campaign that will support pediatric cancer research. Double your donation with a match! Until September 30, every dollar donated to the Dick Vitale Pediatric Cancer Research Fund at the V Foundation, up to $1 million, will be matched by generous donors Mark & Cindy Pentecost, founders of It Works!
Donate Today