JJ Rothfuss is one of a kind. He's one of 83 million children in the United States. He's one of three million youth baseball players. And, he is one of 15,000 children who were diagnosed with cancer in 2021.
When asked to describe her oldest son, 8-year-old JJ, the first word that came to Amber Walker's mind was 'caring'.
"The number one thing is he is very caring," Amber said. "He cares about people before himself. He's wise beyond his years. He always was beyond his years, but I think this [his cancer battle] makes him more wise."
Then, an anecdote about JJ's pet bunny named Hoppus, but we'll get to that part of the story later.
SUDDEN DIAGNOSIS
One Monday afternoon JJ wasn't feeling well so his mom took him to the doctor's office. She thought it might have been a cold, while the pediatrician suggested testing for mono. The results of the test were life-altering as JJ was diagnosed with leukemia – a common childhood cancer.
A whirlwind of activity followed the diagnosis. JJ was admitted to Golisano Children's Hospital in his hometown of Rochester, N.Y., and started chemotherapy less than 48 hours later – an unfathomable change in such a short amount of time.
Once there, he underwent genetic testing and was diagnosed with the rarer children's leukemia, acute myeloid leukemia. The treatment plan was four cycles of in-patient chemotherapy.
"It was five months pretty much straight in the hospital from April to September," Amber said. "If his blood looked ok, he could come home very restricted from people. For the most part, it was 30 days in the hospital, a couple days at home and then go back for another 30 days."
At Golisano, JJ fought through chemotherapy. He lost a lot of weight and muscle early in the process, but after adjusting to the treatments, he started eating more and building his strength.
SUPPORT AND CARING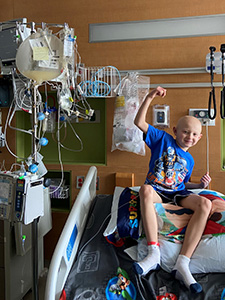 With COVID-19 regulations, JJ's only visitors early on were his parents, Amber Walker and Jamie Rothfuss. After a couple of months, the regulations changed, and he was able to see a couple of his grandparents as well. This helped brighten JJ's spirits while also assisting his parents, as they were able to spend time at home and with their youngest son, Henry.
Throughout treatment, JJ built strong relationships with the nurses and caregivers who took care of him. He remained full of spirit and positive.
"He always says that he wants to go back and see nurses," Amber said, with a smile on her face. "It's a testament to how amazing the people on our floor were. He loves them. He has no fear of any of it because they did such a good job taking care of him."
AMERICA'S (AND JJ'S) PASTIME
Before his diagnosis, JJ and his teammates were counting down the days to the 2021 baseball season. After missing the entire 2020 season due to the COVID-19 pandemic, it was going to be an important 'catch-up' season for all. JJ was only able to attend one practice before his diagnosis and admission to the hospital — no baseball season was possible.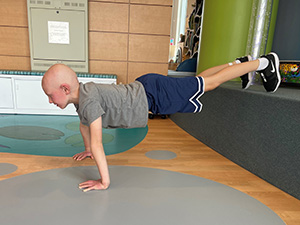 While in the hospital, things to do between treatments were limited. But JJ made the best of it with the help of his family and the nurses.
The hospital had one playroom on his floor, which could be reserved for one hour per day due to pandemic regulations. The positive side of the regulation was that it meant that he was the only patient in the room, and he and his dad had space to practice.
JJ was adamant about keeping up his skills through his treatment. He and his dad, Jamie, worked hard on his skills and worked to keep his strength, playing catch in the playroom.
JJ inherited his love for baseball from his dad. They are both big fans of the Yankees, and Giancarlo Stanton is JJ's favorite player. When Jamie was in the hospital, they were likely doing one of three things – practicing baseball in the playroom, playing a spiderman video game or watching baseball.
"For all the Sunday Night Baseball games that the Yankees were on we would put the window shade down and use that as a projector screen," Jamie said. "We would darken the room and put it on the shade. That was really cool – it was like our own movie theatre."
Although apart from the Little League team in 2021, JJ kept up with them. His team wore ribbons on the sleeves of their jerseys to honor him.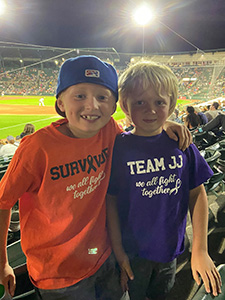 JJ saw the field once in the 2021 season. His oncologist cleared him to join his team in a game one afternoon during a chemotherapy break.
Even better, last month, JJ wrapped up the 2022 baseball season. He had a great support system that encouraged him throughout the season. Even some of his nurses at Golisano came to his games.
All of his hard work and dedication throughout treatment paid off, as he was able to compete at a higher level without skipping a beat and made the local travel ball team, the Penfield Crimson Pride. He played all across the diamond, showing his versatility and honing different skills. "It's been a lot of work," Jamie said. "He's put in a lot of side work this summer. He loves it and is one of the hardest working kids, and it shows off too."
Next comes hockey season, then the countdown for the 2023 baseball season will begin.
HOME SWEET HOME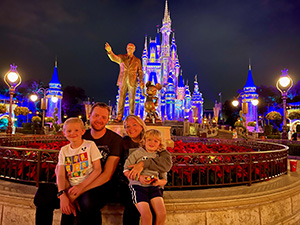 After five months of chemotherapy treatments, JJ returned home. His scans are clear and he has returned to school, sports and playing with his younger brother Henry. He and his family celebrated with a trip to Disney World.
In December, three months after returning home from the hospital, the Rothfuss family was watching their beloved Syracuse Orange play Villanova in the Jimmy V Classic on ESPN. That is when they heard about the V Foundation for the first time, leading them to donate and share their story.
"You never realize how serious it is for the families that [cancer] impacts until you live it," Jamie said. "That was one of the biggest things for us last year and why we wanted to donate and promote it to our friends and family too."
JJ and his family look forward to celebrating his one-year anniversary of being in remission over Labor Day weekend. Each year comes with a smaller chance of relapsing.
Now at home, with things seemingly back to normal, JJ remains the caring and thoughtful person he was in the hospital.
Now we'll get to the bunny story.
JJ had been asking his parents for a pet bunny for a while prior to his diagnosis and hospital stay. While he was in the hospital and preparing to come home, his parents consented. His parents told him he was going to be the main caregiver for the pet, and he agreed to it.
So, they went to online to a rescue organization's website where there seemed to be tons of options for pet bunnies looking for homes. Many were young, energetic, fun bunnies, which most children would immediately choose to take home.
Instead, JJ picked a special bunny – it was older and only had one eye.
After being in the hospital for nearly five months through chemotherapy treatments and being cared for by incredible nurses, he picked the bunny he could care for himself.
Donate Today