Meet Matt Kenny, a Team V runner who completed the 2023 Los Angeles Marathon!
Inspiration is what sparked Matt Kenny's desire to run the 2023 Los Angeles Marathon. It's what motivated him to fundraise over $20,000 for cutting-edge cancer research as a part of Team V. And it's what pushed him through the finish line with a personal record.
For Matt, participating in the Los Angeles Marathon was an opportunity to take on a new challenge and to run for a cause greater than himself. As an ESPN employee of nearly 24 years, he's had a front-row seat to the incredible partnership between the two organizations and knew that running for the V Foundation would make this endeavor even more meaningful.  He joined Team V through the 'Choose Your Own' race option, which allows participants to choose any endurance event that works best for them and raise money for game-changing cancer research.  
"It doesn't have to be a marathon or a massive amount of money. It could be a 5K or a one-mile fun run. Whatever your pursuit, if you're supporting cancer research, you're making a difference."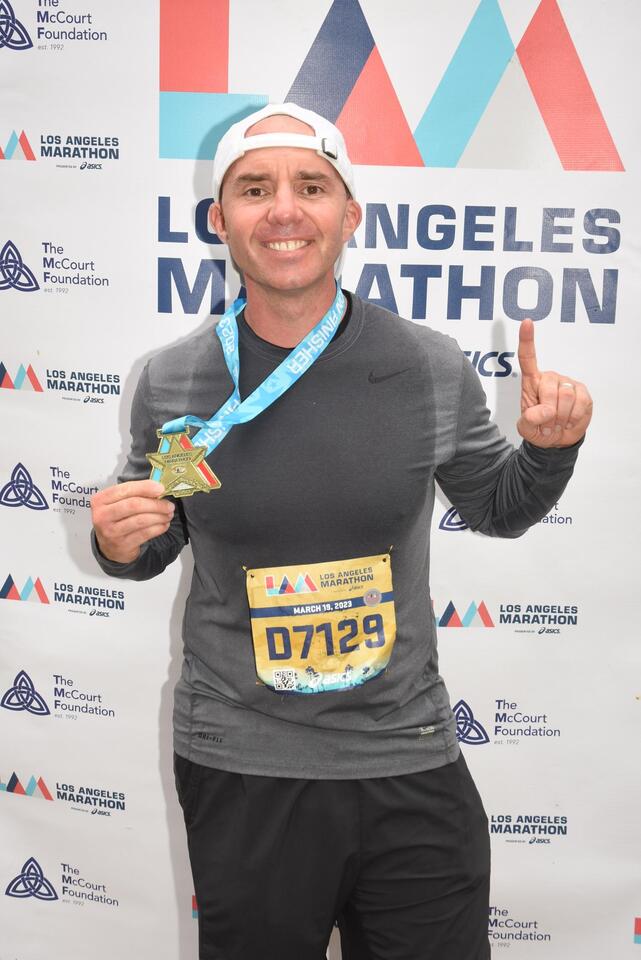 "When I decided to run the marathon and to raise money for a worthy cause, there's no shortage of good causes out there, but for me, the V Foundation was it," said Matt. "The V Foundation has always been near and dear to my heart given the incredible circumstances in which the organization was formed. I remember Jim Valvano's powerful story and iconic speech, how he inspired so many."
Throughout his training, Matt drew inspiration from many places, but above all, he wanted to honor every person who has battled cancer, including his own father, Kieran, who passed away from kidney cancer in March of 2020.
When he told a small group that he was planning to raise money for the V Foundation along the way, he immediately received an outpouring of support. After expanding his reach to social media, he saw how deeply personal this cause is for so many people. "I was blown away by the support I received from people I knew, and I was equally humbled by the support I received from folks I'd never even met before," he said.
As Matt powered through 26.2 long miles on race day, he channeled motivation from every person who was rooting for him, with a special push from his dad. "When you're raising money for a cause, and you're out there running the race, people often say 'your dad will be on your shoulder,' or 'the people who supported you will lift you up.' That's absolutely true."
With all the great accomplishments and memories from the day, Matt's biggest win was knowing that every mile he ran will fund lifesaving research. "Fighting cancer itself is a marathon that a lot of people have been running. I recall Stuart Scott's ESPYS speech, 'When you get too tired to fight, then lay down and rest and let somebody else fight for you.' And in some ways, this was my opportunity to help others with the fight."