Meet Patrick: Iowa Men's Basketball Star and Thriver
Iowa men's basketball player and pediatric thyroid cancer survivor looks forward to honoring Jim Valvano in the Jimmy V Classic.
If you walk into the childhood bedroom of Iowa men's basketball star Patrick McCaffery, you'll notice a transcript of a speech on the wall. In his opinion, it's one of the greatest speeches delivered – Jim Valvano's 1993 ESPYs speech.
Now, Patrick and Iowa are preparing for the Jimmy V Classic. For Patrick, this is an incredible experience.
"It means a lot," said Patrick. "Anything you do with Jimmy V's name attached is something that is special and important. His ESPYS speech is unbelievable. He's somebody I look up to, someone I see as a role model. Being able to do something in his name and play on this big stage is something I will be forever grateful for."
Growing up, Patrick's dream was always to play high-level college basketball. He had been around it his whole life, following his dad, Fran McCaffery's, career as a college basketball coach.
When he was a teenager, however, his life seemed to pause and his basketball dreams were put on hold so he could battle thyroid cancer.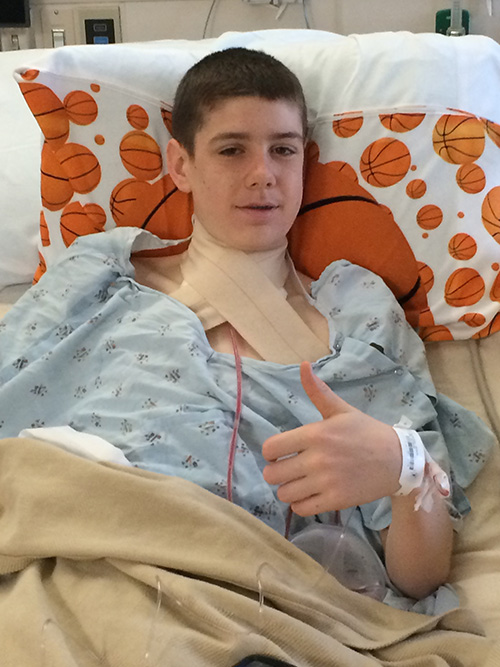 Patrick had just turned 14 years old when he was diagnosed. He was at a basketball workout and the coach noticed that Patrick was struggling with workouts that he had been able to complete in the past. The coach alerted his parents, who had Patrick undergo tests to find answers.
An x-ray revealed a narrowing of his trachea which led to an ultrasound. The ultrasound showed the tumor on his thyroid.
"When I heard the words I had cancer, I was super scared," Patrick said. "The first thing you associate cancer with is death. That was what was running through my head in the beginning. Once the doctors and my parents were able to give me a lot of confidence, they told me it was just going to be a bump in the road, and I was going to be okay and live a normal life. I was ready to beat it and ready to fight."
Patrick's cancer treatment was different than what some might expect. He didn't have chemotherapy, but rather went through a pair of surgeries. The first surgery was to remove the tumor. Then, because the tumor was cancerous, the second surgery removed the remainder of his thyroid.
Following the surgeries, Patrick went on a low-iodine diet in order to become hypothyroid. All of that prepared him for the radioactive iodine scan. He had to drink radioactive iodine and spend a week in solitary confinement.
"My parents locked me in the basement," Patrick said. "I wasn't allowed to talk to anybody, see anybody or be within a certain distance of anybody. Everything I touched had to be thrown out after. That was a pretty unique treatment."
His mindset had to remain strong during the hard times and take it one day at a time.
"Keep pushing through it. It's a day-by-day thing. You have to win every single day. I know some of those days are long and hard. Keep pushing through it, and you'll win."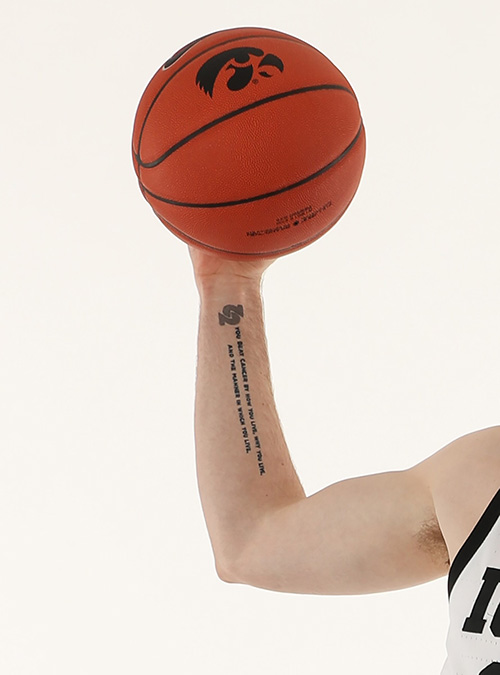 The Player
Once through treatment, Patrick fulfilled his lifelong dream of playing college basketball by attending the University of Iowa to play for his dad.
Now as a red-shirt junior, Patrick entered this season having played 65 games at Iowa and is living his dream preparing for the Jimmy V Classic. He still undergoes some cancer treatment but takes a lot of pride in being a cancer survivor.
"Victory Over Cancer® means a lot to me, because I beat cancer and I know a lot of people who beat cancer. Being able to hold that victory over cancer and prove that you can beat it and then be a high-level athlete is something I will always be proud of. Having that Victory Over Cancer® is something I'll be forever grateful for and I'm going to keep being an advocate and a role model."
V Foundation funded researcher and Assistant Professor in the Department of Pathology, Microbiology and Immunology at Vanderbilt School of Medicine Vivian Weiss, M.D., Ph.D., focuses on pediatric thyroid cancer research in her studies, to help children in similar situations to Patrick's.
Dr. Weiss' team is studying inconclusive biopsies among pediatric thyroid cancer patients and looking to improve the management of inconclusive tests, which occur about 25% of the time. When those happen, many children are taken directly to surgery to remove the thyroid and determine if it is cancerous.
"The thyroid is critical for all the body's functioning," Dr. Weiss said. "To take out the thyroid in a healthy child would be extremely unfortunate. To take out the thyroid to figure out if it is cancer or not is a big step. We want to see if we can get as much information from that original biopsy as possible before we move forward with surgery. The goal of this work is to figure out not only what these cells look like under the microscope, but what are the gene alterations and what are the genetics of that thyroid region up front so we can provide personalized care for each patient."
In addition, Dr. Weiss' team continues to personalize pediatric thyroid cancer patients' care plans. Just 10 years ago, pediatric patients with thyroid cancer were treated the same as adults. Now, researchers like Dr. Weiss and her team are seeing improved results in pediatric patients by learning more about the development of the tumor and pairing that information with innovative, specialized treatments.
"We are now learning that individualized care for children and identifying the specific type of tumor and the genetics of that tumor is really critical up front to give each child the best care," Dr. Weiss said.
Cancer research continues to develop and create more time for parents and children to spend together. Researchers like Dr. Weiss commit themselves to helping our current generation and generations to come.
"Without cancer research we would be in a lot of trouble," Patrick said. "Everyone has had someone touched by cancer, which is why we have to continue to support the V Foundation and Coaches vs. Cancer. Without cancer research, it would be a real struggle for all of us."