Meet Team V: Rebecca Fox
We are proud to highlight Team V, the V Foundation's endurance sports program, which brings together participants of all levels and backgrounds who choose to run and fundraise for a cause greater than themselves. Since its inception in 2014, Team V has raised over $3.4 million for groundbreaking cancer research from participants around the country!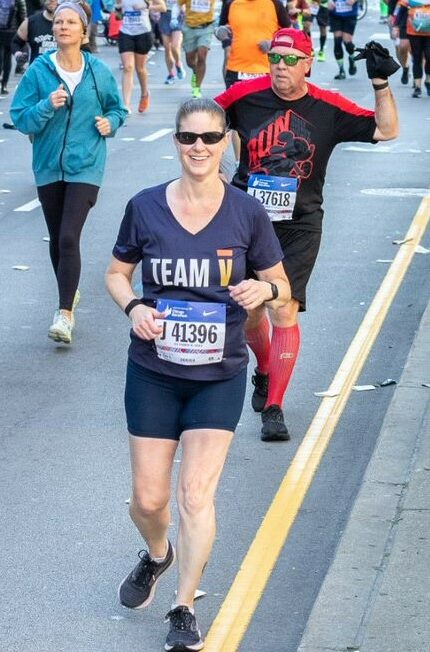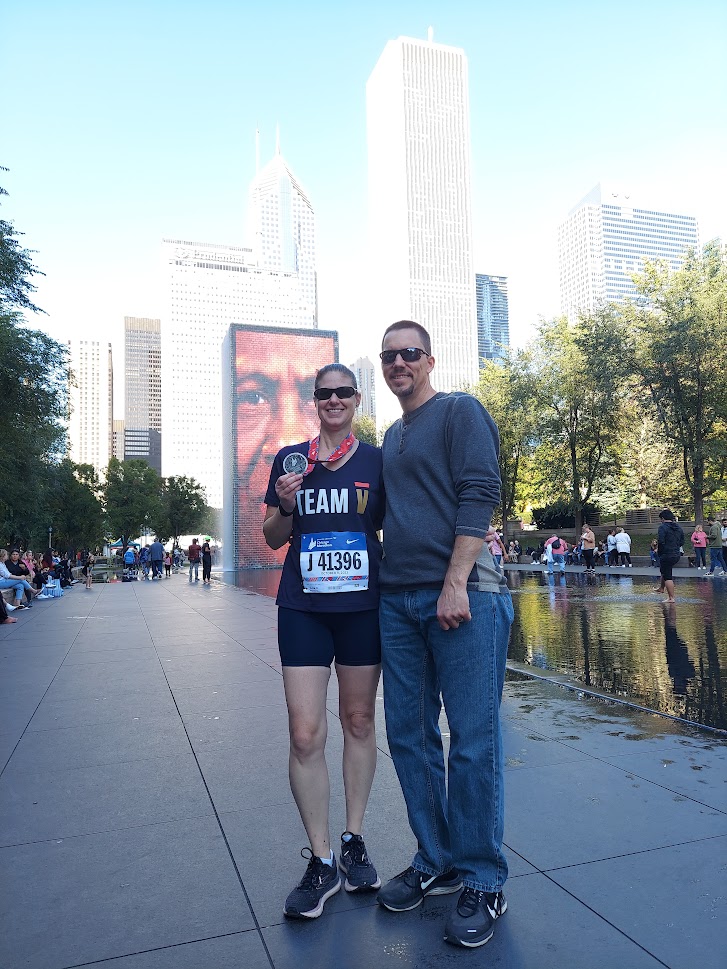 Why run for the V?
I started doing endurance events about 12 years ago to raise money for breast cancer research. I wanted a challenge and thought it was something good to do – to put some meaning behind my activities. After my husband was diagnosed with cancer in 2016, I wanted to support an organization that was 100% research-focused because we honestly believed it is research first and foremost that saves lives.
When my husband was diagnosed, I felt so helpless. There was nothing I could do to help him fight. But this is my way to help fight cancer. Raising research money helps the fight.
My husband and I are both sports fans and hence were very familiar with the V Foundation through ESPN. We regularly watch the ESPYS and I remember crying watching the speech that kicked it all off. (It still makes me cry when I re-watch it).
I immediately thought of V Foundation when I wanted to support a cancer charity that wasn't focused in just one area. My best friend asked me to do the Chicago Marathon with him this year, so it just made sense to work with Team V for this race this time around. (I'm already thinking about either Chicago or New York for 2023.)
How has cancer touched your life?
My husband and I have several connections to cancer. He is a colorectal cancer survivor. My mom is currently battling lung cancer. My grandfather passed away from brain cancer before I was born. A cousin died from cancer of the head/neck. Another cousin had testicular cancer as a teen. An aunt is fighting lymphoma. On his side – His grandmother and great uncle both passed from colon cancer. That same grandmother had also fought and beat breast cancer. We've also had multiple friends diagnosed with cancer even though we are barely 45.
How was your race day experience?
The race was absolutely amazing! I can barely run a mile straight and rely on run/walk intervals, so being a part of a world major was truly a "pinch me" type experience. The energy and excitement around Chicago was insane and the amount of crowd support at this race was beyond my wildest dreams. There was music and cheering EVERYWHERE. The signs made me laugh, and at one point, the music made me cry as I thought of my cousin who passed. The energy and emotion of everything carried me to the end in much better shape than I thought – I was able to run my intervals the entire way.  I laughed, I thought, and I was moved to tears through the race. I had a heck of a day!