Although immunotherapies have revolutionized cancer treatment, they don't help every patient. Only about a third of patients with non-small cell lung cancer respond to this type of treatment, which stimulates the body's own immune system to attack cancer. New research could help boost the effectiveness of immunotherapies and help patients avoid treatments that are not likely to work—and focus on those that will.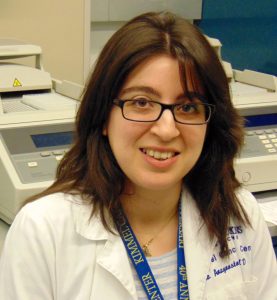 With V Foundation funding, Valsamo Anagnostou, MD, PhD, from the Sidney Kimmel Comprehensive Cancer Center at Johns Hopkins University is taking a detailed look at what drives response and resistance to immunotherapies used with and without epigenetic therapies. Epigenetic treatments, which target modifications that alter gene expression without affecting the genetic code, are used to improve the effectiveness of some immunotherapies.
"We hope that the information we learn will eventually help providers better match patients with the combination of therapies that will work best for them," said Anagnostou. "Understanding the mechanisms of response and resistance to these therapies could also reveal new targets that can be therapeutically leveraged down the road."
Predicting response
Anagnostou's research team is taking a deep dive into samples of non-small cell lung tumors from patients who received immunotherapy or combined immunotherapy and epigenetic therapy. To tease apart the complexities of cancer cells and their surrounding environment, the researchers subject each sample to a battery of analyses, including whole exome sequencing to examine changes in the tumor DNA's coding regions, RNA sequencing to detect changes in gene expression, and T-cell receptor sequencing to understand the mixture of immune cells present in the tumor.
"By combining all of these analyses, we can more accurately capture what's really happening, especially in terms of interactions between the tumor and the immune cells," said Anagnostou. "We have already identified mutational profiles linked with a positive response to immunotherapy and certain gene mutations that are associated with poorer outcomes."
To make this information clinically useful, the researchers incorporated it into a multi-feature model of response to immunotherapy. As described in a Nature Cancer paper, the model can be used to accurately identify which tumors are likely to respond to therapy, and which patients are likely to have the best chance of survival.
The tools the researchers developed during this project are already being used to provide insights into a variety of cancer types. "We fine-tuned computational pipelines for analyzing whole exome sequence data, which encompasses all the protein coding sequences in the human genome," said Anagnostou. "These pipelines provide a wealth of information about the mutations a tumor harbors and genome-wide copy number changes, and we're using them to analyze a plethora of patient cohorts."
A less invasive way to detect cancer
Another part of Anagnostou's V Foundation project focuses on using a blood test known as a liquid biopsy to detect cancer by monitoring circulating tumor DNA (ctDNA) in the bloodstream. The researchers have shown that changes in levels of mutations in ctDNA can rapidly and accurately identify which patients would benefit from therapy and which patients wouldn't respond.
"We also found that ctDNA is a good proxy for tumor burden, independent of therapy," said Anagnostou. "Changes in ctDNA levels after treatment reliably predicted later clinical responses whether a patient with lung cancer was on targeted therapy, immunotherapy alone or immunotherapy and epigenetic therapy."
This is useful because it can be difficult to assess how well a person is responding to immunotherapies with conventional imaging approaches. While a lesion that appears to increase in size usually means the disease is progressing, this isn't always the case with immunotherapies due to their unique timing and response patterns.
Based on their encouraging findings, the researchers have designed a clinical trial (NCT04093167) to further test how well liquid biopsy can assess treatment response in patients with lung cancer. If results from the trial and future studies are positive, this could give oncologists a more reliable, less expensive and less invasive way to determine whether immunotherapy is working.
Anagnostou says that the V Foundation funding, one of the first awards she received, was instrumental in her career development. "I was an instructor when I received it," she said.
Within the course of the award I became an associate professor, formed a 20-member wet and dry lab and began leading the molecular tumor board at Johns Hopkins as well as the thoracic oncology biorepository. These accomplishments were made possible by the research we did with support from the V Foundation award.
Valsamo Anagnostou, MD, PhD