Growing up, Steve Rogers played baseball in high school and college. He remembers rigorous practices, and at the end, running stadium steps. When the team thought they had finished the workout, the coach would often challenge them with three simple words, "Run two more". Now, nearly 60 years later, he's still pushing those for those two more – just in a different way.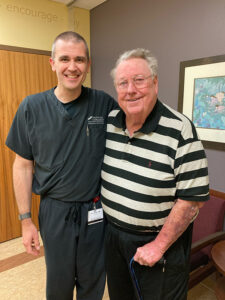 Steve was diagnosed with prostate cancer on February 14, 2018, at 68 years old. It is not his favorite Valentine's Day, but it is a memorable one. Upon diagnosis, Steve immediately wanted to start treatment. He had options and chose to undergo radiation rather than surgery, per his doctor's advice.
After two rounds of radiation, Steve's PSA levels were not where they should be. So, Steve sought a second opinion that introduced him to a new cancer medication. Since then, he's been on that medication every day. The medication hasn't eliminated the cancer, but has controlled it.
"I have cancer, but I'm beating it. I'm thankful for what God has blessed medical science, one to be able to detect this stuff and two, to have different treatments and different options. 100 years ago, or 50 years ago, I'd be dead. It's an ugly disease, but you just have to keep moving forward."
When he was diagnosed, Steve chose to become a financial supporter of the V Foundation for Cancer Research. He followed Jim Valvano's coaching career and remembered watching the incredible speech Jim gave at the 1993 ESPYS. The inspiring words, plus learning more about the V Foundation and its mission, made the choice to fund meaningful cancer research easy.