The Black Widow: V Foundation Ambassador Jeanette Lee
Legendary professional pool player Jeanette Lee became a V Foundation Ambassador after a battle with ovarian cancer
Jeanette Lee has been dubbed the "Black Widow"  because of her killer instincts at the pool table. Normally, she has a calm, sweet demeanor but with a cue in her hand, everything changes.
After picking up the sport at 18, Jeanette quickly rose in the world of pool. She turned professional at the age of 21 and became the No. 1 ranked female player in the world by 23. She went on to receive the Women's Professional Billiard Association (WPBA) Sportsperson of the Year Award in 1998 and won the gold medal for the United States at the 2001 World Games in Japan.
While playing the sport and after retiring, Jeanette remains a strong proponent of women's athletics and specifically women in pool. Early on, she would travel from place-to-place recruiting women to play in tournaments alongside her. The women's sport was hard to grow, but the Black Widow was relentless.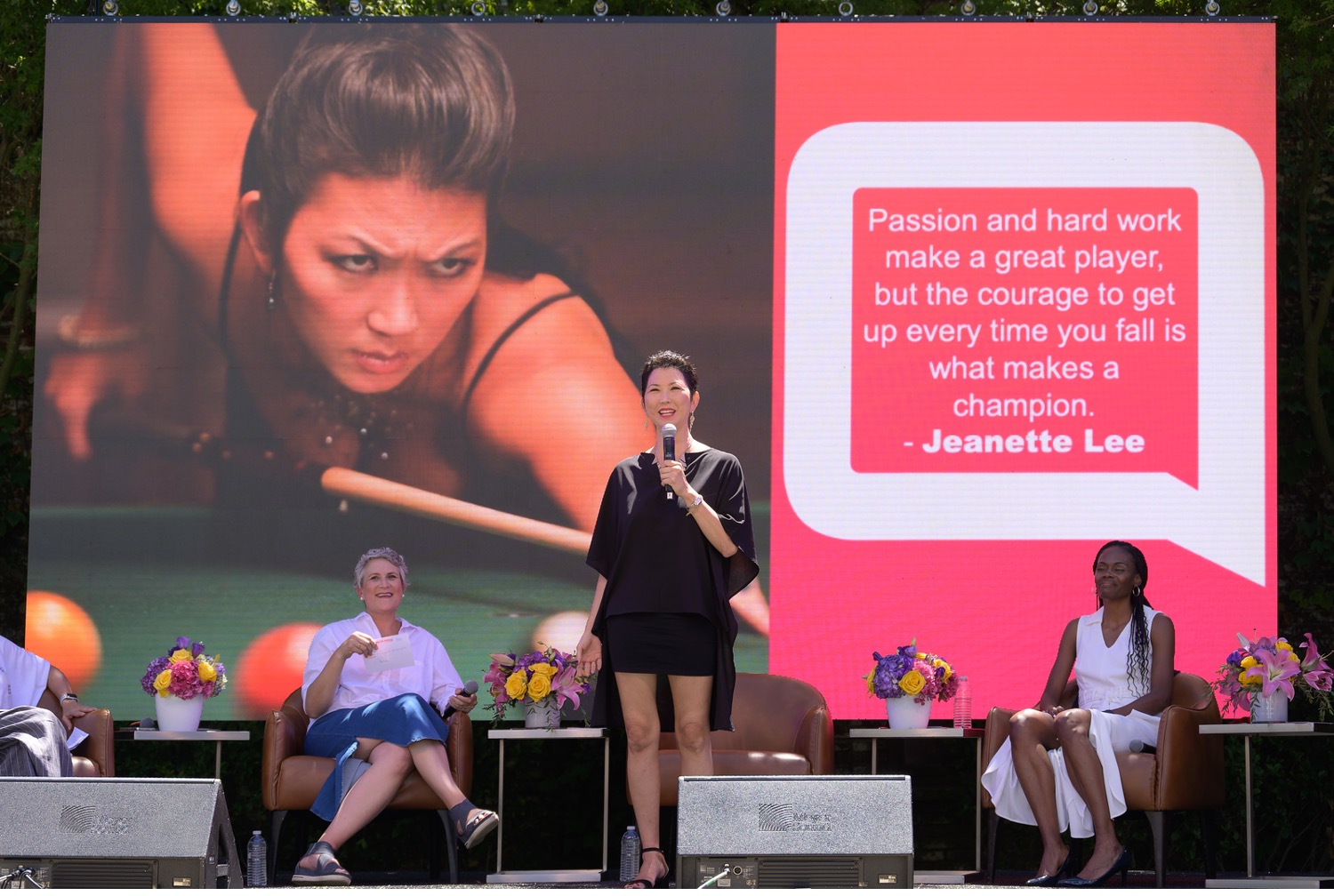 Recently, Jeanette, a V Foundation Ambassador, was featured during the Celebration of Title IX at the V Foundation's Wine Celebration in August. She recognized the progress that women's athletics has made, and the room for continued growth in the future.
"When, you get into the schools, I would like to see men and women working together to really level the playing field. That is very important. If you can help grow that, I know that I can have so much hope for the future."
Jeanette battled health problems and injuries throughout her whole career. Diagnosed with scoliosis at a young age, she's had more than 20 surgeries with many of those coming on her spine. She's continued to battle.
In 2021, she faced her toughest health battle yet. She was diagnosed with stage IV ovarian cancer. Originally, the cancer was believed to be terminal.
"When I was diagnosed, it blew my mind. My first thought was, 'Oh my god, my children. I am not going to leave my children without a mother.' I pulled from everything that we have gone through as women and looked at the odds that we faced."
After battling hard with chemotherapy, Jeanette announced in May that her treatments were successful. As someone who fought what was believed to be terminal cancer, Jeanette could see firsthand the developments of treatment options due to cancer research.
Now, Jeanette is a staunch proponent for cancer research. She has partnered as an Ambassador for the V Foundation to be a voice and raise awareness of the mission of the organization. Since 1993, the V Foundation has funded almost 1,200 cancer research grants totaling over $310 million.
Jeanette's life, career and battle with cancer was documented in "Jeanette Lee Vs.", a documentary directed by Ursula Liang in the 30 for 30 series produced by ESPN. The documentary will make its television debut on Dec. 13. Check out the trailer HERE.