Outside of the track, Fritz carries that same tenacious spirit with him in every aspect of his life. Over the past 14 years, he has faced many other challenges, most notably, an acute myeloid leukemia (AML) diagnosis, which he has beaten three separate times since it was first discovered in 2008.
Between early morning practices and a demanding travel schedule, Fritz was not concerned when his usual winter cold hit in February 2008, a minor inconvenience for the active 35-year-old. However, when the symptoms worsened, he followed up with his primary care doctor.
Fritz's physician expressed deep concern about his bloodwork results and urged him to go to an emergency facility more than 100 miles away from his home. After hours of waiting, Fritz and his wife, Teri, were given life-altering news: he had leukemia.
"We were in disbelief," said Teri. "We were convinced they had it wrong. There was an error somewhere."
When Fritz and Teri noted that they'd like a second opinion, the medical team pushed back. "The doctors told us, 'We've got to admit you today and we have to start treatment today. We think you've got about two weeks.'"
Still in shock, Fritz began chemotherapy the same day and continued intensive treatment for several months, adjusting the cocktail multiple times to find an effective treatment. Once in remission, he underwent a stem cell transplant with bone marrow donated by his brother, a perfect match.
"After the transplant, I had no more residual cancer cells," said Fritz. "I felt great, and the recovery wasn't too bad as compared to what we heard it could have been."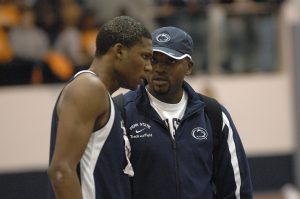 For the next several years, Fritz resumed normal activities and coaching, even planning a celebratory vacation in anticipation of reaching the five-year cancer-free milestone.
However, when Fritz woke up on the morning of July 4, 2013, a pain had developed in his leg that was so severe he rushed to the emergency room. The same day, he received the devastating news that the cancer had returned.
At that time, doctors were hesitant to use his brother again as a donor since the initial transplant did not keep the cancer in remission. However, with no eligible matches available in the national database and limited options, his oncology team pursued a combination of chemotherapy and an infusion of millions of his brother's previously frozen cells. Through this treatment plan, Fritz successfully achieved remission again after several months.
Unfortunately, the family experienced another heartbreak in late 2019 upon finding out the cancer had returned for a third time.
With the state of the world rapidly changing due to the COVID-19 outbreak, Fritz received a bone marrow transplant provided by a donor of Caribbean descent from the national registry on March 11, 2020, just days before the entire country shut down.
For both Teri and Fritz, the timing was excruciating because no visitors were allowed in the hospital, local hotels and lodges were shut down, and they were only able to communicate via phone through most of his hospital stay.
While the recovery process was long and stressful, the Spences powered through together, even finding creative ways for Fritz to coach his athletes virtually, one of the passions that kept him motivated through recovery.
"We looked into what technology was available beyond just FaceTime and Zoom," explained Teri. "Penn State has loaner robots you can apply for, and Fritz was assigned one and placed in the track facility."
From his hospital room 100 miles away, Fritz would control the robot from the charging dock, drive it onto the track and coach the student-athletes. He was able to adjust the robot to follow the athlete's route, view different angles and engage in two-way communication with his students.
"He has a great rapport with the student-athletes. They loved it, he loved it, and it was a way for him to be there, but without actually being there," said Teri.
As the Spences reflect on the challenging times they've faced over the last 14 years, they remain passionate advocates for cancer research. As a patient, Fritz participated in multiple research trials with hopes of improving treatments and outcomes for future generations of patients.
"The research provides opportunities for people like myself to live," said Fritz. "We've seen with this journey that the treatment options are just leaps and bounds better than they were when we first began in 2008."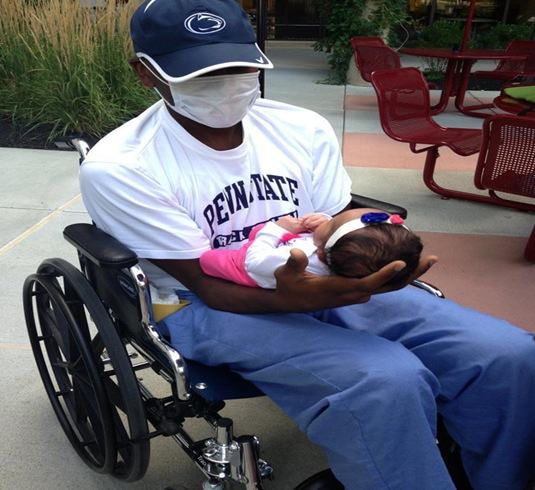 In addition to the advancements in medicine, Fritz's incredible willpower has pulled him through the darkest days. "The mind is so powerful," he said. "After all my cancer, I couldn't control what happened with my body, but I could control my mind and how to get through those first minutes, then day, then week."
In fact, Fritz follows the same mantra that Jim Valvano championed nearly 30 years ago on the ESPYS stage. "For anyone who has been diagnosed with cancer – don't give up," said Fritz. "Continue to push through. Sometimes your body will fail you, but you have to stay focused mentally."
Between Fritz's unbreakable spirit and Teri's enduring support, the Spence family exemplifies what it means to thrive. They are also vocal advocates of how other community members can play a role.
"Look into getting registered in the bone marrow registry. It's a simple cheek swab in the mail," said Teri. "But when people of African American or Caribbean descent need a donor, oftentimes they're scrambling and there's no time. You could potentially save someone's life."
Donate Now
Tell Your Story
Featured photo courtesy of Penn State University Athletics