Meet Holden Zimmermann
High school lacrosse player storms through brain cancer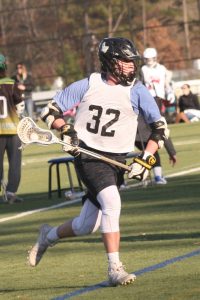 Holden Zimmermann was getting ready for school when he felt a slight tingle in his face and tongue. He ignored it and got in the shower. Moments later, he was violently shaking all over. It was Holden's first seizure and the start of his cancer journey.
At first, Holden's doctors thought it was epilepsy. But after a scary prolonged seizure and a trip to the hospital in an ambulance, an MRI showed a tumor in Holden's brain. Doctors believed it to be benign and recommended medication to control his seizures. A few months later, Holden continued to be plagued by seizures and slurred speech. While his doctor advised staying the course, Holden's mom, Susannah, pressed for better options and took Holden to the Children's Hospital of Philadelphia (CHOP) for further evaluation.
Holden was eager to have the tumor removed so he could resume a normal teenage life. At this point, surgery was the most promising option—but it risked damaging his motor skills or causing a permanent facial droop. Holden and his family were prepared to take the risk, and specialists at CHOP agreed to perform the surgery. Fortunately, the precarious procedure was successful, and Holden was discharged 48 hours later. His family was ecstatic. However, they were blindsided with a call that came hours later delivering words no parent ever wants to hear, "Your child has cancer." An analysis of the removed tumor revealed Holden had ependymoma, a rare form of brain cancer.
"Fate whispers to the warrior, 'You cannot withstand the storm.' The warrior whispers back, 'I am the storm.'"
– (Holden's favorite quote) by Jake Remington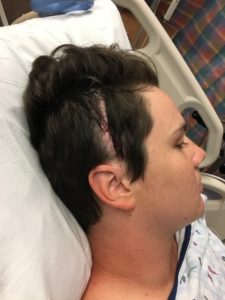 Despite the severity of her son's situation, Susannah was reassured by recent advances in technology and cancer research. Holden's medical team used a revolutionary treatment known as proton therapy. This targeted form of radiation provides less "scatter," which helps reduce long-term side effects from radiation and minimizes exposure to nearby healthy tissue. Additionally, proton therapy is especially beneficial when treating pediatric brain tumors, because a child's brain is still developing and can be especially sensitive to the effects of radiation. Proton therapy is a newer type of radiation only made possible by investments in cancer research.
Holden missed the first six weeks of his freshman year in high school and a season with his beloved lacrosse team. Through 33 radiation treatments, five days a week, Holden was "the storm." He kept up with friends, schoolwork and even volunteered daily after radiation at his former kindergarten. His family credits CHOP's exceptional patient care, including having a dedicated "life specialist" meet him every morning to provide support and to advocate on his behalf … and, of course, the groundbreaking research that made proton therapy possible.
"Cancer research means a lot. No kid should have to go through cancer. You just want to live your life and have fun, " – Holden.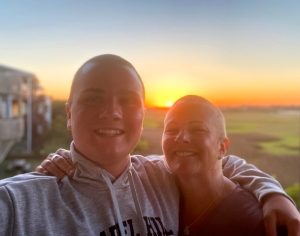 "Holden was a poster child for advancements in cancer research. His cancer journey was a blip because of the proton radiation option," said Susannah. "We are unbelievably lucky because of the options made possible through years of research."
Ependymoma is a fast reoccurring cancer, so Holden will have regular scans for years to come. But that doesn't shake him; instead, he feels bulletproof as he exclaims, "I defeated brain cancer!" He is looking forward to wearing his bald spot as a badge of honor this season on the lacrosse field.
Donate Now
Tell Your Story