Meet Huck
Clinical trial for a canine brain tumor extends life and also helps human cancer patients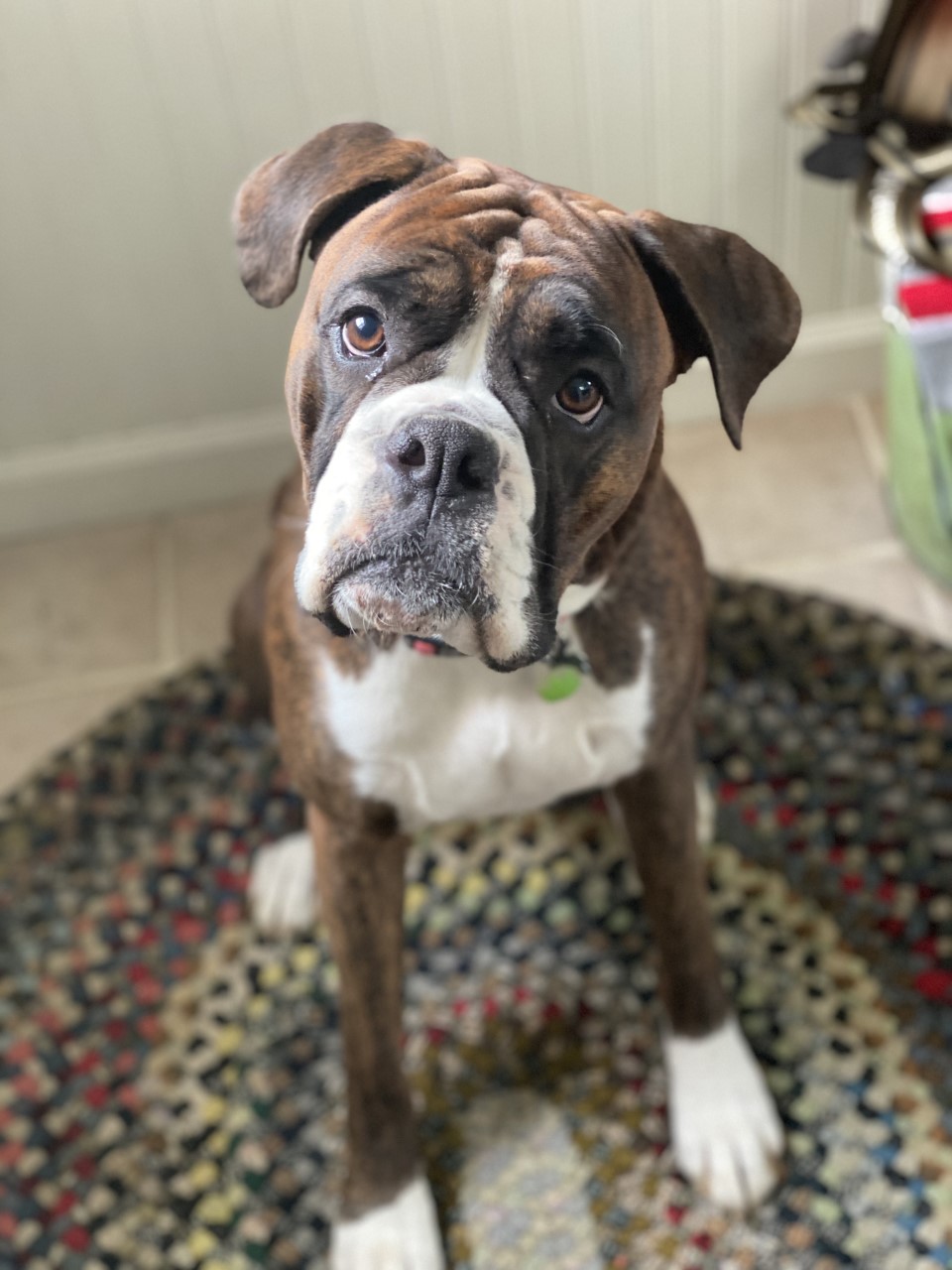 The wag of a tail, the gentle nudge of a wet nose, a smiling face always happy to greet you — it's no wonder our canine companions are not only loving pets but genuine members of our families.
Living outside suburban Washington, D.C., Robyn Porter had just taken Huck, her happy-go-lucky, two-and-a-half-year-old beloved boxer, out for a routine walk. Shortly after returning home, Huck had a seizure and began shaking uncontrollably. Terrified, her husband and son rushed Huck to the emergency veterinarian for tests. His bloodwork came back normal, but their relief was short-lived. The next day, Huck was playing with his sister Pinky and had another seizure. This time, an MRI revealed Huck had a brain tumor similar to a human glioblastoma, an aggressive brain cancer. Robyn and her family received the news with heavy hearts.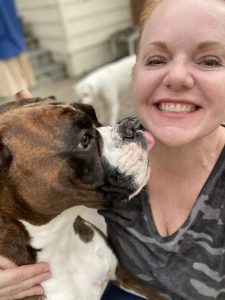 "Huck is the kindest, sweetest dog. After a rough day, when you just want to be alone for a moment, Huck is always there to cheer you up," shared Robyn. "To hear he had three months to live was simply devastating."
Robyn and her husband began frantically combing the internet, trying to learn everything they could about Huck's tumor and possible treatments. Luckily, they found an article on Elizabeth Pluhar, D.V.M., Ph.D., a V funded researcher and professor in the College of Veterinary Medicine at the University of Minnesota. Dr. Pluhar had led a canine study on brain tumor immunotherapy that showed promising results in dogs with the same type of tumor as Huck. After a quick phone call to  Pluhar, the family made plans to board a flight to Minnesota with Huck, just as air travel was coming to a screeching halt due to the pandemic.
Canine Cancer Treatment
Pluhar successfully removed Huck's tumor and, after three days, he returned home with a scar; thankfully, his unconditional loving, carefree attitude remained. As part of her research, Pluhar coordinated Huck's immunotherapy treatment with his local vet. Nine months after the first treatment, Huck underwent a second, more difficult surgery to remove a new tumor. This time, Huck overcame learning to walk again and other challenges before once again bouncing back.
Today, Huck remains under Pluhar's excellent care and is participating in a new clinical trial. This wonder dog enjoys chasing chickens on the farm and is loving life. And his family is grateful for the extra time with their beloved pooch.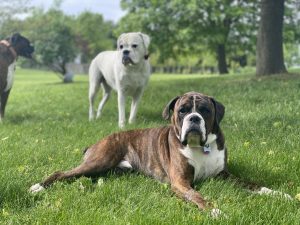 Equally as important, the cancer regimen extending Huck's life is giving valuable insight into a possible new treatment for human patients with glioblastomas, malignant tumors within the central nervous system. According to the National Institutes of Health, only 15% of people diagnosed with glioblastoma survive five years.  Because of the canine oncology trial's positive results, researchers are optimistic as a new human glioblastoma clinical trial is now underway using the same immunotherapy.
Robyn says, "The cancer treatment has been a total win. People get to know what an awesome dog Huck is, and through research, he is helping other dogs and people. Huck is a small part of a bigger picture that can help save people's lives."
Canine Oncology Research at the V Foundation
Did you know dogs and humans are 85% genetically similar? Our pet dogs get cancer – a lot of cancer. At the V Foundation for Cancer Research, we strive to help both canine and human patients by finding cures more quickly. Bringing together cutting-edge veterinary medical centers with leading cancer centers, research in the canine comparative oncology program is advancing faster and less-costly drug therapies, as well as better informed clinical trial designs for both dogs and people. To date, the V Foundation has funded $5.6 million to study canine comparative oncology. To learn more, visit https://www.v.org/raise-your-paw/.
Donate Now
Tell Your Story