Meet Sadie Keller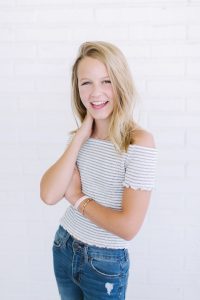 As the fastest kid on her youth soccer team, Sadie Keller knew something was wrong when she repeatedly couldn't catch her breath and needed to sit out. She kept getting sick, one cold after another, followed by strep and the flu. When a mysterious scattering of red dots appeared on her legs and then spread to her stomach, her pediatrician ordered bloodwork. The next day revealed a life-changing diagnosis: acute lymphoblastic leukemia.
The Roller Coaster Begins
Sadie felt terrified as she whispered in her mom's ear, "Am I going to die?" Immediately transported to the hospital, she trembled seeing the needles, tubes and machines. Within 24 hours, she had a port installed in her chest, received chemotherapy, and experienced early adverse reactions. She spent most of the next month battling one complication after another. When a nasty E. coli infection spread from her shoulder to her port, she had her port removed and a painful PICC line (a long-term IV line) installed to continue chemotherapy.
Giving Back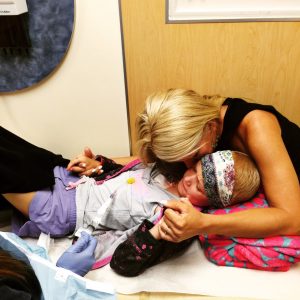 Sadie looked for something to keep her mind off cancer. With a giving heart, she decided to make treats for the doctors and nurses to thank them for taking care of her. Using Pinterest for creative ideas, she began surprising her medical team with decorated cupcakes, candy cups, cookies and other delights each week. Soon it was Christmastime and Sadie worried Santa might not make it to the hospital to deliver presents. She orchestrated a toy drive that brought in an astounding 1,300 toys. Fueled by the positive response that first year, Sadie decided to put a smile on as many faces as possible, expanding the program to deliver toys to 11 children's hospitals across the country each December.
"Super Scary" Treatment

Methotrexate toxicity is a condition no child should know about, much less be able to articulate, yet Sadie can explain the term flawlessly. During several of the 19 spinal taps she endured to deliver the drug methotrexate directly into her spine, the medicine seeped into her brain and gave her stroke-like symptoms. As she lost feeling in her arm and had trouble speaking, she felt everything was out of her control. Even with all she had experienced, Sadie remembers this as the worst part of her cancer treatment. It motivated her to advocate for research funding to provide better therapies designed just for kids.
During her three-year battle with cancer, Sadie contacted her congressional representative and began promoting the urgent need for pediatric cancer research on a national level. "Seven children die each day from childhood cancer. We must do better. We need more money for research so we can find cures," Sadie exclaimed as she lobbied on Capitol Hill for better pediatric cancer treatments.
I want to fight for other kids. There are so many kids who look like I did, bald, attached to IVs and dealing with horrible side effects. We need better treatments.
Sadie Keller
Not Defined by Cancer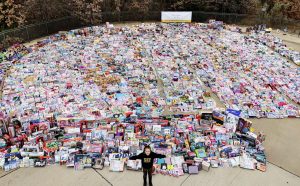 Determined to bring hope and inspiration to other children, Sadie delivers "milestone gifts" to celebrate accomplishments in treatment. Milestones may include the end of chemo or radiation, nearing remission, leaving the hospital after an extended stay, or overcoming a difficult procedure. With wisdom beyond her years, Sadie encourages kids battling cancer to stay strong: "Try and stay positive. I know it's not easy. Look at the positives in every situation. You are strong. I am praying for you every day."
Today, Sadie enjoys playing tennis, swimming and TikTok videos. She loves art and spending time with her friends and family.  She recently wrote a book with Congressman Michael McCaul titled "Better Angels", which shares how her journey with cancer allows her to bring joy and inspiration to others.
You can join Sadie and put a stop to childhood cancer. Learn more at https://www.v.org/research/specialfunds/pediatrics/.
Donate Now
Tell Your Story