Meet Tim Grimes
A "Don't Ever Give Up" attitude allowed this sports fan to defy all odds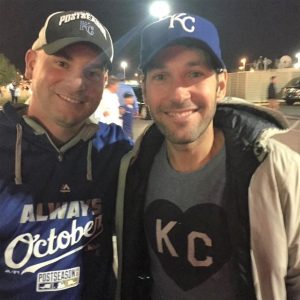 Tim Grimes was in the swimming pool when one of his buddies noticed a suspicious mole on his back. Having a history of benign moles, he was not concerned. A year later, he had the mole removed at a health clinic. Shockingly, the diagnosis was advanced melanoma.
The prognosis was grim. Doctors gave this loyal Kansas City Royals and Kansas City Chiefs fan a five percent chance of living another 18 months. Scans showed he had cancer in his liver, lung, lymph nodes and spine. After surgery, Tim's melanoma oncologist revealed seven to nine months was his realistic lifespan. Just as Tim was struggling to keep a positive outlook, his doctor suggested a promising clinical trial. Tim agreed; he liked the aggressive approach. Each grueling treatment required him to spend several days in the Intensive Care Unit to monitor severe side effects. Tim's "Don't Ever Give Up" spirit and survivor skills kicked in.
Science is inspiring. I wouldn't be here today without the research and drugs that healed me.
Tim Grimes
Tim Fights Back
Tim's friends shared his story on social media, and word spread fast. The Kansas City community provided support and funds so Tim could pay his medical bills. The tremendous backing helped him endure significant mental and physical anguish.
Amid treatment, a new scan showed cancer had spread to Tim's brain. Tim thought it was "game over," but he persevered and underwent radiation treatments in addition to immunotherapy. At the 18-month mark, fifty percent of Tim's tumors had shrunk. Instead of giving up, Tim rallied for his life.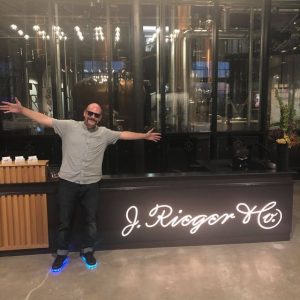 Now in remission, Tim is keenly aware of the role research played in his treatment and strives to give back. Each year, he passionately energizes the riders raising funds for the V Foundation through the Bristol-Myers Squibb Coast 2 Coast 4 Cancer ride. In addition, Tim is committed to helping fellow cancer survivors cope with the unique challenges they face after beating cancer.
Donate Now
Tell Your Story