Tylee Craft Continues to Inspire Amid Battle
UNC football player Tylee Craft has consistently inspired all of those around him in the midst of a battle with lung cancer.
If you don't know who Tylee Craft is, we're glad to introduce you.
A junior wide receiver at the University of North Carolina, Tylee continues to positively influence everyone around him as he battles lung cancer. It wasn't what he expected as a four-star prospect coming out of South Carolina, but Tylee has made the most of a difficult situation each step of the way.
In December, Tylee was awarded the Disney Spirit Award, an award given annually to an inspirational figure in college football on or off the field, including players, coaches, fans and cheerleaders. Although it wasn't something he was familiar with, when he researched the award, he was immensely honored. Disney chose to honor Tylee for his inspiring acts in his community amid what he was facing. His enthusiastic attitude stood out amongst all others.
"I always try to be positive," Tylee said. "A lot of people go through a lot of different things that we don't know about. Me being positive can maybe influence them to be positive as well. I don't like to think negative, it's pointless … as long as I can see people smiling and having fun, that is all that matters."
A College Football Athlete Inspiring Others | A Conversation with Tylee Craft
Tylee's story was featured on the Voices for Victory podcast.
Tylee first noticed something was going on during spring workouts. He was having back spasms and tightness, which he originally attributed to the workouts. He had scans done to make sure everything was normal. A few days later, on March 14, 2022, Tylee was diagnosed with stage four large cell neuroendocrine carcinoma, a rare form of lung cancer.
From the moment of diagnosis, Tylee's life changed drastically. He stopped playing football, the game he had played since he was 7 years old. He stopped taking classes for the semester and started treatment. He moved to a new home, largely so that his mom could stay with him and care for him. And he noticed changes as he lost weight and his hair.
Tylee started treatment a week after diagnosis. His treatment was intense, as he underwent two cycles of a combination of the most aggressive chemotherapy and immunotherapy. While monitoring, doctors saw the cancer was shrinking so they focused on immunotherapy treatments only. After further testing, the cancer began growing again, leading him back to chemotherapy. It was an intensive schedule, but Tylee's support system continued to spur him on.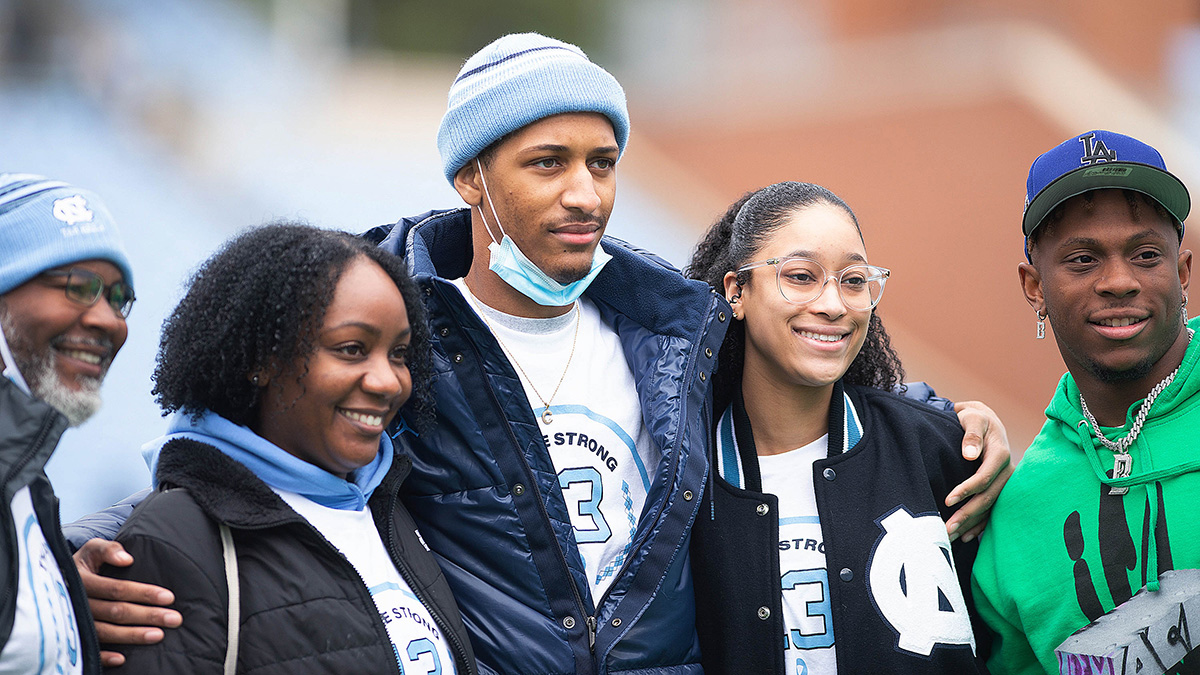 Tylee's support started with his mother, who's been his biggest ally. She moved to Chapel Hill to be by his side. Even today, she texts him a thumbs up emoji almost every morning to check on him. He replies with a simple thumbs up. His entire family, although back home in Sumter, S.C., continually uplifted him.
In addition to his mom, Tylee praises the medical team at UNC Lineberger Comprehensive Cancer Care Center and the way they took care of him and his mom. His teammates, coaches, coaches' families and the Chapel Hill community also all offered him and his mom help and encouragement.
Even during treatments, Tylee wanted to remain part of the UNC football team. It was one of his motivations. He couldn't be in the action, but he could be on the sidelines and feel part of the team by supporting his teammates, as they supported him.
His team did one thing that stood out over the rest. In April, UNC hosted its annual spring game. During the game, the program honored Tylee for his courageous battle, naming the spring game after him – the #TyleeStrong Spring Game – with the players donning stickers on their helmets.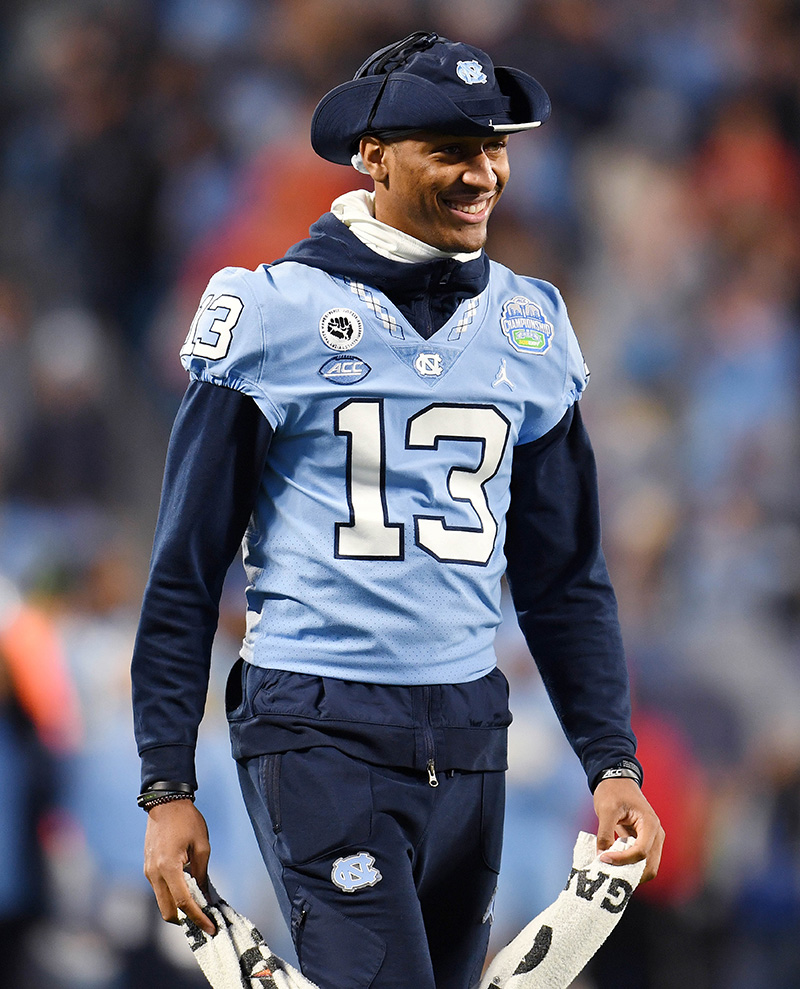 In 2023, Tylee has returned to the team and is working to get back into football shape. On good days, he trains hard. On tough days, he gets much needed rest. His health continues to come first, but football is one of his biggest motivators. Now, Tylee hopes to inspire others in his shoes.
As he continues his battle with lung cancer, Tylee is passionate about giving back to others in similar situations. He, along with some teammates, visited patients in the UNC Children's Hospital on Friday afternoons during the fall. It means a lot to be able to give back to the community.
"I'm a part of the White Ribbon Project," Tylee said. "Being there and seeing all these other survivors and people who have battled, I know we are all together. We are all a community that tries to bring awareness to everyone. It's a lot, but it's nice to know that everyone is looking out for you."
He joined the V Foundation because he believes that cancer research is vital to save lives. Victory Over Cancer® is something to be grasped in the future, but it takes a team investing in cancer research today.
"It means a lot to join another community that is trying to find cures," Tylee continued. "Knowing that I can help, bringing assistance and help people out, and bring awareness to different things that are going on, that is all I am trying to do."
In addition to sharing his story with the V Foundation, Tylee has a unique connection to the V. While being treated at UNC Lineberger, Tylee crossed paths with Dr. Jared Weiss, M.D., a thoracic medical oncologist and section chief of lung cancer. Dr. Weiss has a longstanding relationship with the V Foundation as he was a V-funded researcher earlier in his career.
Dr. Weiss received a V Scholar Grant in partnership with the Lung Cancer Initiative of North Carolina, utilizing Stuart Scott Memorial Cancer Fund matching funds. His research focused on personalized immunotherapy, specifically the introduction of CAR-T cells. CAR-T is an exciting technology that modifies a patient's own T cells to recognize and attack cancer cells that bear a particular marker. Through his work there have been recent advancements in the treatment of lung cancer.
Dr. Weiss is one of many dedicated V-funded researchers that continually pursue breakthroughs to better the lives of cancer patients now and in the future. Learn more about Dr. Weiss' work below:
Jared Weiss – Recent Advances in Immunotherapy for Small Cell Lung Cancers
After decades of little to no advancements in lung cancer treatment, research has recently yielded advancements that will soon improve chances of survival
Through his success with CAR-T cells research funded by the V Foundation, Dr. Weiss and his team were able to secure 4x the amount of funding. They recently got FDA approval and will begin clinical trials to help patients
In addition to survival increases, there have also been increases in quality-of-life medications that decrease the side effects of chemotherapy for incurable cancers
Racial Disparities in Treating Cancer
The mistreatment of minority populations extends to medicine, but researchers like Dr. Weiss are aiming to eliminate that and provide consistent quality of care to everyone
When looking at clinical trial results, one of the first thing Dr. Weiss looks at is the demographics of the participants – underrepresentation by race is common in clinical trials
Because there can be biologic cancer differences by race, unless we adequately represent everyone in trials we end up with results and advancements that are not applicable for all people
"We need to be batting for home runs repeatedly," Dr. Weiss said. "We need to be curing cancer. That's why I think target immunotherapy is so important, it is at least aiming for the fences. That's what victory is, victory is cure."
---
In 2023, the V Foundation is celebrating 30 years of granting funds toward game-changing cancer research. In its existence, the V Foundation has funded nearly 1,200 cancer research grants totaling over $310 million. Today's cancer research is tomorrow's victory. Donate today at v.org.
Interested in sharing your story with the V Foundation? Click here.