At the V Foundation for Cancer Research, we have countless ways you can check off your resolution boxes, all while supporting life-saving cancer research!
Looking to get in better shape? How about training for a race? There's no better motivating factor than knowing there are people behind you supporting your cause! Team V is the V Foundation's official endurance training program. Never been a distance runner before? That's OK! Our team will provide you with the steps needed to succeed, both on your feet and raising money. Team V has spots in notable races such as the 2022 TCS New York City Marathon and the 2022 Bank of America Chicago Marathon, but the option is yours. Choose any race you'd like to run and let our team know you'll be supporting Team V!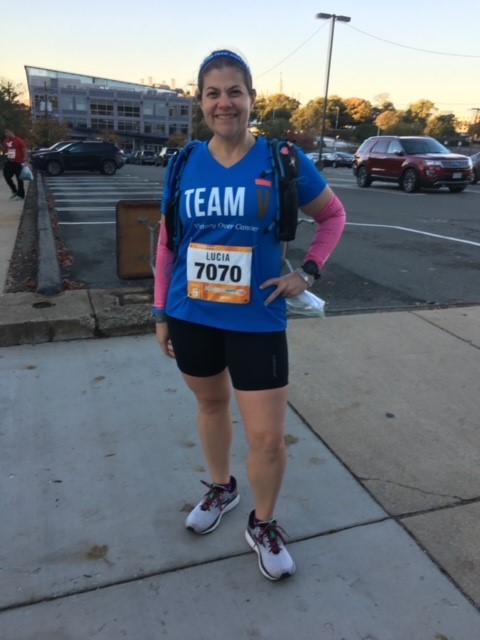 Lucia Patrone first joined Team V back in 2018 when she ran the Richmond Marathon. Her father had battled cancer since 2003 and she wanted to support the cancer research that had allowed him to survive.
"My dad fought for 16 years with brain tumors that became more aggressive each time they returned," said Patrone. "He would watch Jimmy V and Stuart Scott's speeches anytime he needed a boost in inspiration, courage or a good old-fashioned cry."
Patrone will be back pounding the pavement for Team V in 2022 and is quick to encourage others to join.
"It is something I believe in with every fiber of my being. The dollars raised directly impacted my father's quality of life, especially in the final months when new therapies were being tried. Without the V Foundation and Team V, this wouldn't be possible," said Patrone.
So, you're intrigued, but you've never been much of a runner. Well, what about hopping on a bike and joining us at the 2022 Victory Ride to Cure Cancer? The ride is set for May 21 in Raleigh, but also features a MyVictory Month virtual experience from April 21-May 21, so you can join regardless of where you call home.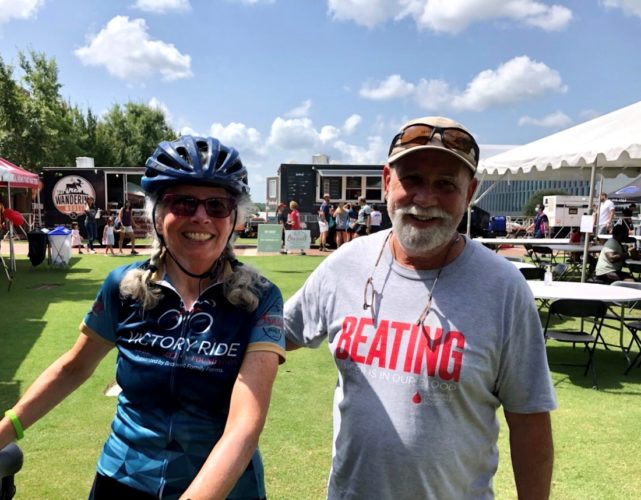 In 2020, Nita Kroninger was looking for a way to support her husband, who had been diagnosed with cancer the previous year. When she found out about the Victory Ride, it was an easy decision for her.
"After my husband was diagnosed, I felt helpless and wanted to do something, but I didn't know what," said Kroninger. "Even though I was a non-cyclist, I was up for the challenge and felt good about being part of a community that is truly working towards a cure for cancer."
The ride features different lengths, so whether you are an avid cyclist or just getting back on a bike for the first time in a while, there's a perfect lane for you. And whether you join us in Raleigh for the in-person ride or are a part of the virtual event, you are truly a part of something special.
"The support system is fantastic, and I am most looking forward to the camaraderie of all involved, just being part of a community working towards a common goal," said Kroninger. "I was so impressed that all levels of riders were represented and appreciated. No one was above anyone else."
If running or riding isn't your style, perhaps you'd like to bring your own community together with a fundraiser to support cancer research? No matter what type of fundraiser you have in mind, our staff is here to help get yours off the ground and running.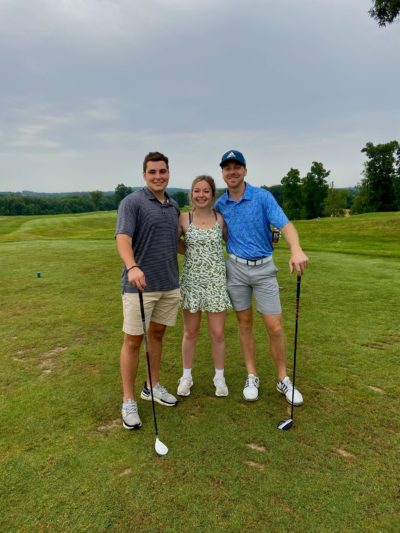 When Ryan Lincoln's grandfather passed away, he knew he wanted to honor him by supporting cancer research through the V Foundation. Given their shared love of golf, the idea was right in front of him: an annual golf tournament.
"Getting set up was so easy for me. All I had to do was reach out to the V Foundation and they sent me a link and some guidelines on how to set up the event. They also set you up with a wonderful webpage where people can donate at any time outside of the event," said Lincoln.
The event is now a staple for Lincoln and his community, and even though most who attend didn't know his grandfather personally, they are more than willing to help because, like most of us, they know someone whose life has been altered by cancer.
"The Davidson Memorial Golf Outing means so much more than just golf, a cold beer and some good food," said Lincoln. "You truly don't understand the impact you have until you run an event like this. For this incredible cause, the V Foundation makes it so easy to raise a lot of money. It is so rewarding."
No matter what your New Year's Resolutions look like in 2022, come see how the V Foundation can help you check off some boxes. Not only will you be able to say you accomplished your own personal goals this year, but you'll be able to say you joined a team that is moving us closer to Victory Over Cancer®.