In his unforgettable speech at the 2014 ESPYS, Stuart Scott said, "When you die, it does not mean that you lose to cancer. You beat cancer by how you live, why you live and the manner in which you live." He passed away less than a year later, but true to his words, he continues to persist in beating cancer through the Stuart Scott Memorial Cancer Research Fund.
The Fund was established in 2015 following Stuart's death to tackle a problem that was near to his heart: cancer disparities and the urgent need to improve outcomes for African American and other minority patients who are disproportionately affected by cancer. In fact, African Americans have a higher overall death rate from cancer than any other racial or ethnic group in the U.S. Since the Fund was established, the V Foundation has awarded $10.5 million in research grants to lift this heavy burden by finding cures that work for the communities that need them most.
Taking on TNBC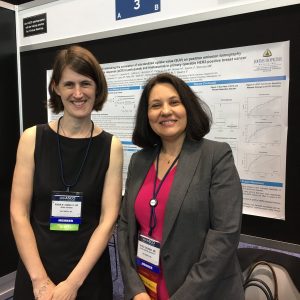 One such grant went to Vered Stearns, M.D., and Roisin Connolly, M.D., of the Sidney Kimmel Comprehensive Cancer Center at Johns Hopkins. Their team is taking an individualized approach to preventing and treating breast cancer, specifically metastatic Triple Negative Breast Cancer (TNBC). African American women are more likely to get TNBC – and more likely to have the most aggressive type and to die from it – compared to white women. Despite the clear need for cures, treatments for TNBC are less effective and have harsher side effects than other breast cancer therapies, in part because many of the studies that led to revolutionary cancer treatments in the past were tested mostly in white women.
Stearns wants to change that – and change the outlook for women facing a TNBC diagnosis – by focusing on the minority patients who have historically faced the highest risk.
"The Stuart Scott Fund is critical to improve the understanding of the biological basis of cancer disparities experienced by patients of minority populations," said Stearns. "The Fund will ensure diversity in clinical investigation. It is critical to both understand the role of standard treatments in diverse populations and to develop new and specific strategies to improve cancer-related outcomes of all individuals."
An Exciting Time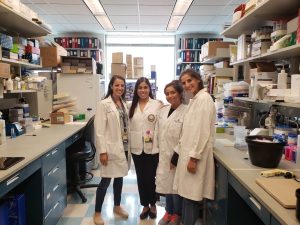 Stearns has already identified promising new therapies to bring to these diverse trials. Her team's research suggests a new combination therapy may be able to convert tumors that traditionally do not respond to immunotherapy into ones that do.
"Our team has demonstrated that combining an HDAC (histone deacetylase) inhibitor called entinostat with an immune-checkpoint blockade in laboratory models led to the eradication of breast tumors and long-term cures," said Stearns. "Research suggests that entinostat may alter the tumor environment by affecting the regulatory immune cells that can prevent immune-checkpoint agents from fighting cancer."
The researchers have begun an early phase clinical trial in TNBC patients. As they await results in the coming months, they will be looking to see if the combination therapy could represent a new treatment path for patients left behind by previous treatment advancements.
Stearns said it's an exciting time for the field, with numerous new technologies now available to assess cancer characteristics, develop novel treatments and extract valuable information from the medical records of millions of individuals. She said she hopes continued collaboration will keep leading to new breakthroughs that can benefit everyone.
Coming Together to End Disparities
"The challenge is that even within a type of cancer there are multiple subtypes, and it is hard for one investigator or one cancer center to truly evaluate the value of new treatments or devices, especially benefits and risks to diverse populations," said Stearns. "I am hopeful that by bringing together individuals from multiple disciplines and centers to provide the most robust evaluation of tumors and treatments, ensure diverse clinical trial enrollment and curate data from every individual, we will see robust improvements in cancer-related outcomes."
Thanks to the Stuart Scott Memorial Cancer Research Fund, scientists like Stearns and her team are continuing to open doors for those who suffer the highest burden from cancer. And because we'll never stop being motivated by Stuart's legacy, we'll continue to "Fight Like Hell" to put an end to cancer disparities.