Zhu Surprised with Pediatric All-Star Grant
Shizhen (Jane) Zhu, M.D., Ph.D., was awarded a Pediatric All-Star Grant through the V Foundation's partnership with Jeff Gordon Children's Foundation
When you think of superheroes, you probably think of someone with a cape. When we think of superheroes, we think of someone with a lab coat.
Our heroes are V-funded researchers who are on the front lines of cancer research, taking on one of society's biggest foes – cancer. These researchers are persistently seeking findings that will advance treatment options, detection and cures for the disease.
Shizhen (Jane) Zhu, M.D., Ph.D., received a big surprise last month when she was announced as one of three recipients of a Pediatric All-Star Grant award co-funded by the V Foundation and Jeff Gordon Children's Foundation (JGCF). This investment in Dr. Zhu's research at Mayo Clinic Children's Research Center in Minnesota will open doors and allow her to deepen her research into pediatric neuroblastoma.
Dr. Zhu was invited on a Zoom call with V Foundation Chief Executive Officer Shane Jacobson, Chief Scientific Officer Susanna Greer, Ph.D., and Vice President of Research and Grants Administration Carole Wegner, Ph.D. When she got on the call, she was also joined by JGCF's Executive Director Susan Johnston, Senior Communications Officer Nathan Pope and Jeff Gordon, Founder of JGCF, Vice Chairman of Hendrick Motorsports and four-time NASCAR Cup Series champion. That's when Dr. Greer gave the exciting news that Zhu was awarded a $1 million All-Star Grant.
Dr. Zhu's research project titled, 'Developing innovative anti-GD2 CAR-Macrophages for the treatment of high-risk neuroblastoma' was selected for an All-Star Grant by the V Foundation's selective Scientific Advisory Committee. Her research focuses on improving treatment options for pediatric neuroblastoma, which accounts for approximately 10% of cancer deaths in children. The research by Dr. Zhu and others provides hope and better options for patients now and in the future.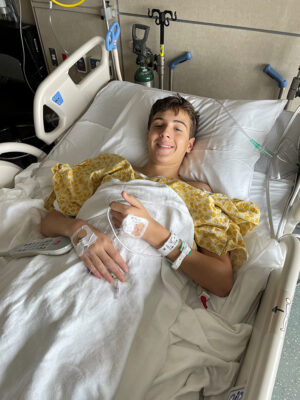 The V Foundation and Jeff Gordon Children's Foundation share a commitment to better pediatric cancer treatment options and cures through research. Pediatric cancer is the leading cause of death by disease in children. Although it affects one of the most important populations, pediatric cancer receives minimal federal funding. Because of this, pediatric cancer researchers rely heavily on private organizations like the V Foundation and JGCF to fund research and help pediatric cancer patients.
Through the partnership, JGCF and the V Foundation each pledged $1.5 million to co-fund three Pediatric All-Star Grant awards. The researchers awarded All-Star Grants awards were previously funded as V Scholars. In addition to Dr. Zhu, researchers Christopher R. Vakoc, M.D., Ph.D., of Cold Springs Harbor Laboratory and Megan McNerney, M.D., Ph.D. of University of Chicago Medicine Comprehensive Cancer Center, received funding. Dr. Vakoc's research is titled 'High-resolution functional mapping and in vitro reconstitution of the PAX3-FOXO1 fusion oncoprotein complex.' The name of Dr. McNerney's research is 'Restoring CUX1 levels in myeloid malignancies of childhood.'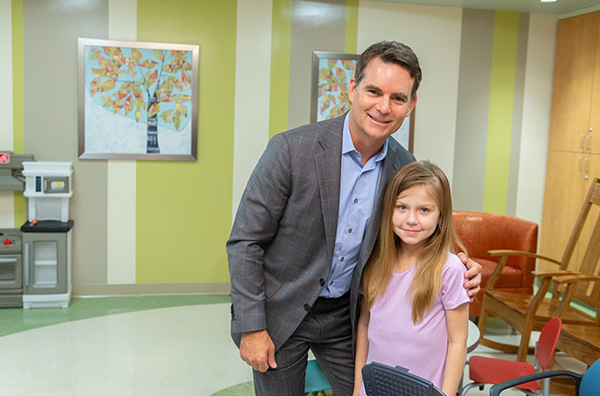 Founded in 1999, JGCF is laser-focused on improving outcomes for kids fighting cancer. Ever since Gordon's rookie season in NASCAR's Cup Series when his crew chief's infant son was diagnosed with leukemia, Gordon has pursued pediatric cancer with the same trademark intensity as he pursued opponents on the track. To date, JGCF has funded more than $25 million in research grants to identify less toxic, more effective treatments for childhood cancer.
"We look forward to a day when cancer is no longer the number one cause of death by disease for kids.  But until then, we are incredibly excited to partner with the V Foundation in the race to beat it." – Jeff Gordon
While the commitment made by the V Foundation and JGCF is great, it would not be possible without the support of faithful donors. In addition to the three grants approved by the Scientific Advisory Committee, other grants were approved but are awaiting funding. Donate to pediatric cancer research today.
In 2023, the V Foundation is celebrating 30 years of granting funds toward game-changing cancer research. In its existence, the V Foundation has funded nearly 1,200 cancer research grants totaling over $310 million. Today's cancer research is tomorrow's victory. Donate today at v.org.