Meet Asha Miller
Fitness instructor pushes for better options for minority cancer patients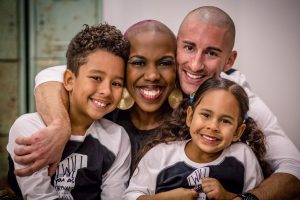 After recovering from a complicated surgery, Asha Miller was enjoying working out, eating healthy, and finally being in control of her body. One day in the shower, she noticed a tiny bump in her armpit. After a few weeks it disappeared, and she dismissed it as an inflamed lymph node. At 33 years old and in the best shape of her life with no family history of cancer, Asha never suspected she had breast cancer. Yet when the bump returned, she sought a doctor's advice. An ultrasound showed nothing abnormal, but a little voice inside urged her to get a biopsy anyway.
Two days after the biopsy, her surgeon called with startling news: cancer. Asha hung up the phone and screamed. Her children ran to see what happened. Not wanting them to worry, Asha said she had stubbed her toe and ushered them to the school bus.
Advocating Through Adversity
A second opinion and another biopsy found the tumor had spread to her lymph nodes and her chest wall showed calcification. Asha was diagnosed with Stage 3 HER2-negative breast cancer and soon began chemotherapy. A severe allergic reaction triggered immense pain and landed Asha in the hospital for several days. Frustrated by an oncologist who dismissed her pain, Asha switched to a new oncologist ­– this time, a person of color.
"I am a huge believer that self-advocacy is so important when embarking on your own cancer journey. Making sure to find your voice and have people around you to speak up for you is key."
Surgery for a double mastectomy revealed the cancer did not respond fully to chemo. Next came painful radiation treatments, leaving second and third-degree burns. And the challenges continued. Asha faced additional complications of excessive menstrual bleeding as a result of chemotherapy, and a recall on her breast implants – both requiring additional surgeries.
Hope for Healthier Futures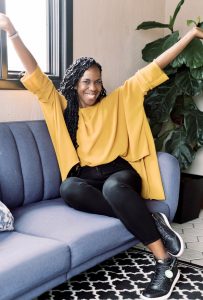 Initially terrified by the dramatic changes to her body, Asha is slowly learning acceptance. "I am learning
to love my body that betrayed me but also got me through treatments."
When her mother was recently diagnosed with cancer, Asha wondered if her daughter might someday face the same fate. Although the BRCA gene is not present in their family, Asha believes there is much more to learn about cancer and its causes, especially for minorities who face higher risks and have been underrepresented in cancer research.*
In addition to BRCA, several other inherited gene mutations are known to increase the risk of developing breast cancer. As scientists dive deeper, they expect to discover additional mutations. Their next step will be to find ways to stop those mutations from developing into cancer.
We need investigative research to find genetic mutations. And we must build more trust for clinical trials to develop better treatments. Seeing patients and the medical community work together brings hope for the future.
Asha Miller
Today Asha is a frequent blogger, and through social media, she provides advice and inspiration for other women battling cancer.  In Hindi, Asha means "hope" – a perfect name for a woman bringing hope to so many on their own cancer journeys.
*Per the National Institutes of Health, survival rates for women with breast cancer have been steadily improving over the past several decades. However, these improvements have not been shared equally; Black women are more likely to die of their disease. The rate of triple-negative breast cancer, an aggressive subtype, is twice as high in Black women as compared to white women.
Donate Now
Tell Your Story